Slow cooker risi bisi recipe. Risi Bisi, a rice and peas dish, is one of the most popular Italian dishes. Inspired by the African tradition of cooking rice with beans, the dish was originally made with rice and black-eyed peas.
How does risi bisi differ from other types of risotto?
Risi bisi is a type of risotto that is made with rice and peas. It is often served as a side dish or as the main dish in Venetian cuisine.
Risi bisi is usually made with carnaroli rice, which is grown in the Po Valley and has a firm texture. The rice used in this dish can be substituted with Arborio, but it will not have the same consistency and flavor.
Peas are also an important ingredient because they provide sweetness to the dish. As for seasonings, it's all about garlic, onion, olive oil, and salt.
What are some variations you can make to this dish?
There are many variations to risi bisi that you can make to suit your taste preferences. You can add more vegetables like carrots, cauliflower, broccoli, etc., or you can add meat like ham or bacon for a heartier meal.
You can even make risi bisi vegetarian by replacing the meat with mushrooms or other vegetables that have a similar texture to meat such as zucchini squash.
Slow Cooker Risi Bisi Recipe
You may also like:
Air Fryer Chocolate Cake Recipe
Slow Cooker Lamb Biriani Recipe
Instant Pot Turkey Sausage and Macaroni Casserole
Slow Cooker Country Lentil Soup Recipe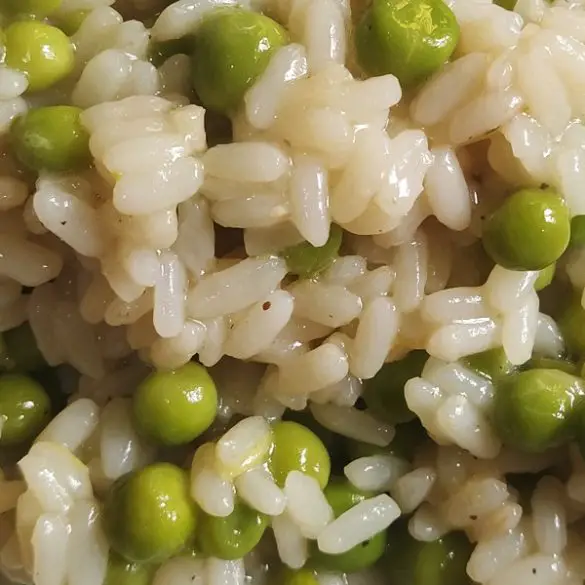 Ingredients
3 cups (750 ml) vegetable broth

3 cloves garlic, peeled and chopped

1½ cups arborio rice

2 teaspoons dried basil

8 oz (240 g) frozen peas, thawed

salt and freshly ground black pepper, to taste
Instructions
In a small saucepan, heat vegetable broth over medium heat.
Pour into a slow cooker.
Add remaining ingredients, except peas and seasoning.
Cover the pot and cook on high-heat setting for 1¼ hours, or until rice is al-dente and liquid is almoust absorbed, adding thwaed peas during the last 15 minutes.
Turn off the slow cooker, Season the dish with salt and black pepper, to taste.
Serve hot.,