Instant pot keto cauliflower recipe. Cauliflowers with vegetables and spices cooked in an electric instant pot. Keto friendly, low-carb, and gluten-free recipe. This delicious recipe adapted form https://sweetpeasandsaffron.com/instant-pot-cauliflower-korma/
You may also like Keto Lemon-Garlic Chicken
Instant Pot Keto Cauliflower Recipe
Equipment you need to make this recipe: Instant pot, blender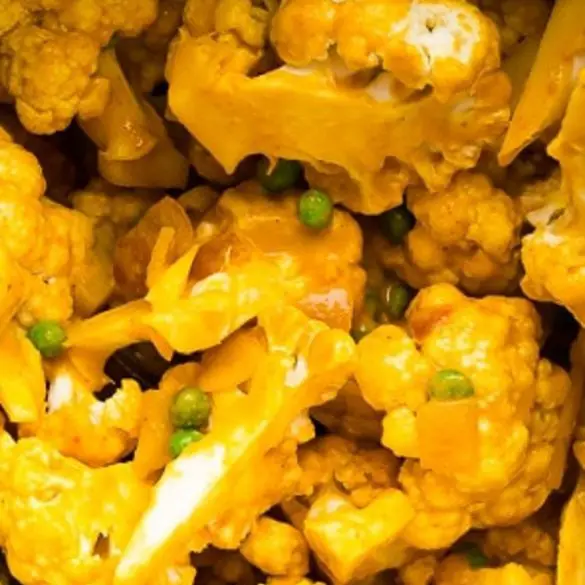 Ingredients
3 ripe tomatoes

4 cloves garlic, peeled

1 inch (2.5 cm) ginger

1 green chili

12 raw cashews

1½ tablespoons (22 ml) olive oil

1 bay leaf

3 green cardamon pods

6 peppercorns

1 red onion, peeled and chopped

1½ teaspoons ground coriander

1 teaspoon garam masala

1/2 teaspoon red chili powder

1 teaspoon salt

1/2 cup (125 ml) coconut milk

1/4 cup (60 ml) water

1 head cauliflower, cut into florets

1/2 cup frozen peas, thawed and drained

chopped fresh cilantro
Instructions
In a blender, combine tomatoes, garlic, ginger, green chili, and cashews. Blend until smooth and set aside.
Heat the olive oil in an electric pressure cooker turned to the sauté function. Add bay leaf, cardamom, and peppercorns. Cook, stirring, for a few seconds, until fragrant.
Add chopped onion and continue cooking and stirring occasionally, for a further 2 minutes.
Stir in reserved purée from the blender and continue cooking and stirring for 2 more minutes.
Mix in ground coriander, garam masala, chili powder, and salt. Cook, stirring, for 30 seconds.
Pour in the coconut milk and water, then stir in cauliflower and drained peas. Toss well.
Cover the pot and lock the lid. Set the machine to cook at high pressure. Set the timer to cook for 3 minutes.
Using the Quick Release method, bring pressure to normal. Carefully unlock and open the lid.
Season with salt, then mix well.
Serve hot.