Instant pot Mexican pork Carnitas (paleo, keto, whole30) recipe. So yummy, juicy, and tender Mexican pork Carnitas cooked in a pressure cooker. Net carbs only 6 g !
You may also like Keto Cauliflower, another low-carb, healthy, easy, and vegan recipe cooked in an electric instant pot.
Instant Pot Mexican Pork Carnitas (Paleo, Keto, Whloe30) Recipe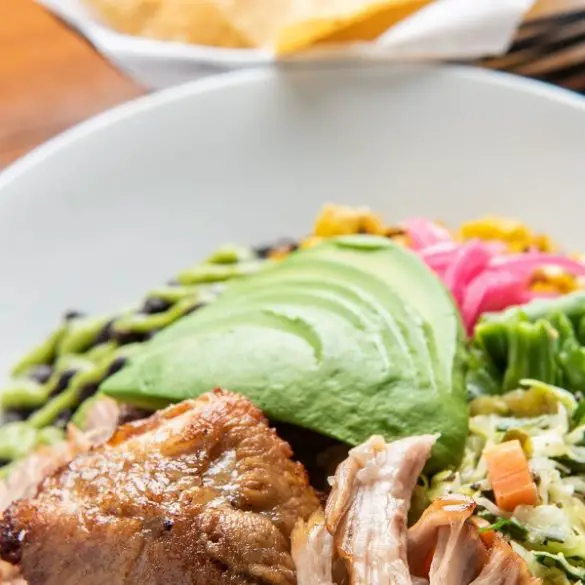 Ingredients
3 pounds (1.44 kg) pork shoulder, cubed

1 medium yellow onion, peeled and diced

6 cloves garlic, peeled and smashed

3/4 cup (180 ml) freshly squeezed orange juice

1/4 cup (60 ml) freshly squeezed lime juice

1 tablespoon ground cumin

1 tablespoon chili powder

2 teaspoons dried oregano

2 teaspoons kosher salt

1 teaspoon chipotle powder

2 tablespoons ghee
Instructions
Heat the ghee in an instant pot turned to the sauté function.
Working in batches, add cubed pork and brown on all sides.
In a small mixing bowl, combine all dry ingredients. Mix well and set aside.
Pour the juices, seasoning mixture over cooked meat. Add onion and garlic. Mix well to combine.
Close the pot and lock the lid. Set the machine to cook at high pressure. Set the timer to cook for 30 minutes.
Using the natural Release method, bring pressure to normal. Carefully unlock and open the lid.
Remove cooked pork from the cooker and transfer to a cutting board. Using two forks shred the meat.
Pour the sauce form instant pot over shredded pork. Serve pork Carnitas with warm tortillas.
Notes
Serve Carnitas with your favorite salsa, avocado, or other keto friendly vegetables.