The best instant pot mashed potatoes recipe. The easiest way to cook potatoes in an electric instant pot.
For vegans, substitute soy milk and olive oil mixture for the cream. Also, use a vegan butter as a substitute for butter.
You may also like Keto Lemon-Garlic Chicken Recipe
The Best Instant Pot Mashed Potatoes Recipe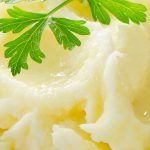 Ingredients
2 pounds (906 g) russet potatoes, peeled and cut into quarters

5 cloves garlic, peeled

1 sprig fresh rosemary

5 sprigs thyme

4 cups (1 L) water

1/4 cup (60 ml) unsalted butter

3/4 cup (180 ml) cream

salt, to taste
Instructions
In an electric instant pot, combine potatoes, garlic, rosemary, thyme, and water. Mix to combine.
Close the pot and lock the lid. Set the machine to cook at high pressure. Set the timer to cook for 10 minutes.
Using the Quick Release method, bring pressure to normal. Carefully unlock and open the lid.
Discard rosemary and thyme sprigs. Using a colander, drain off the water.
Transfer cooked potatoes to a large bowl. Mash them, then stir in the butter, cream. Season with salt, to taste and mix well.
Serve hot