Instant pot keto meatloaf recipe. Learn how to cook healthy low-carb (3 g) meatloaf in an electric instant pot. Very easy recipe.
I used Homemade Low-Carb Ketchup to make this meatloaf.
You may also like Pressure Cooker Mushroom Barley Soup or Instant Pot Keto Broccoli Cheese Soup
Instant Pot Keto Meatloaf Recipe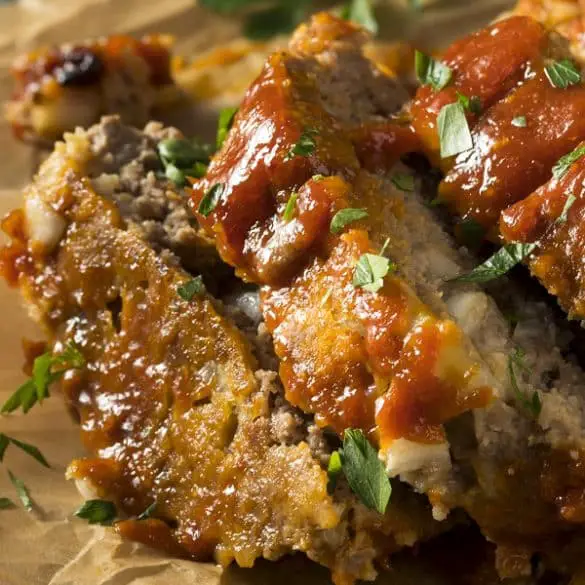 Ingredients
1 pound (480 g) ground beef

2 large eggs, beaten

1 tablespoon (15 ml) Worcestershire sauce

1/2 yellow onion, peeled and chopped

1/3 cup pork rinds, crushed

1 teaspoon salt

1/4 teaspoon freshly ground black pepper

2 tablespoons (30 ml) minced garlic

1 tablespoon (15 ml) chopped fresh parsley

2 teaspoons Italian seasoning

1/4 cup grated Parmesan cheese

1 cup (250 ml) beef broth

low-carb ketchup
Instructions
In a large mixing bowl, combine ground beef, beaten eggs, Worcestershire sauce, onion, crushed pork rinds, garlic, parsley, grated cheese, Italian seasoning, salt, and black pepper. Stir well.
Using a large piece of aluminum foil, make a loaf shape to hold the meatloaf.
Shape your meat mixture into meatloaf, then place on the foil wrap.
Place a trivet in a 6-quart (6 L) electric instant pot. Pour in the broth.
Arrange your foil wrap holding meatloaf on the trivet.
Close the pot and lock the lid. Set the machine to cook at high pressure. Set the timer to cook for 25 minutes.
Using the Quick Release method, bring pressure to normal. Carefully unlock and open the lid.
Brush cooked meatloaf with low-carb ketchup, then transfer to a baking sheet.
Broil in the oven for 3-5 minutes or until ketchup is caramelized.