Instant pot keto taquitos recipe. Learn how to cook healthy Mexican chicken taquitos in an electric instant pot. Use Low-Carb Homemade Salsa to make this recipe.
Instant Pot Keto Taquitos Recipe
You may also like Instant Pot Keto Meatloaf or Instant Pot Healthy Keto Marinara Sauce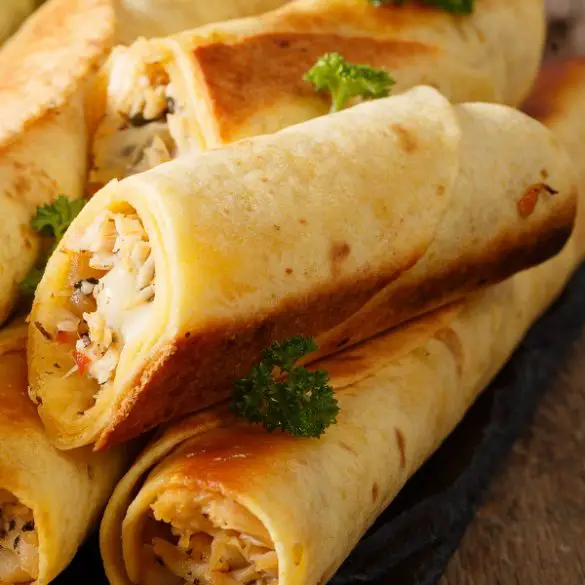 Ingredients
For Shredded Chicken:

1 pound (480 g) boneless and skinless chicken breasts, cut into strips

10 oz (300 g) low-carb and keto-friendly salsa

For Taquito Filling:

freshly squeezed juice of 1/2 lime

1 cup shredded Cheddar cheese

8 low-carb tortillas

1 tablespoon (15 ml) taco seasoning

olive oil
Instructions
Place chicken strips in an 6-8-quart (6-8 L) electric instant pot. Pour the salsa over the chicken.
Close the pot and lock the lid. Set the machine to cook at high pressure. Set the timer to cook for 15 minutes.
Using the natural Release method, bring pressure to normal. Carefully unlock and open the lid.
Using two forks, shred cooked chicken, then add lime juice and mix well.
To Make Taquitos:
Place 1½ tablespoons shredded chicken on the edge of each keto-friendly tortilla. Top with spoonful of shredded Cheddar cheese. Roll taquitos and secure with toothpicks.
Preheat an oven to 400º F (200º C).
Line a baking sheet with parchment paper, then arrange taquitos on it. brush with olive oil and bake in a preheated oven for 10-15 minutes, or until crisp.