Instant pot keto stuffed bell peppers recipe. Learn how to cook healthy and delicious stuffed bell peppers in an electric instant pot.
You may also like Instant Pot Keto Meatloaf Recipe or Instant Pot Healthy Keto Marinara Sauce
Instant Pot Keto Stuffed Bell Peppers Recipe
I used Homemade Cauliflower Rice to make this recipe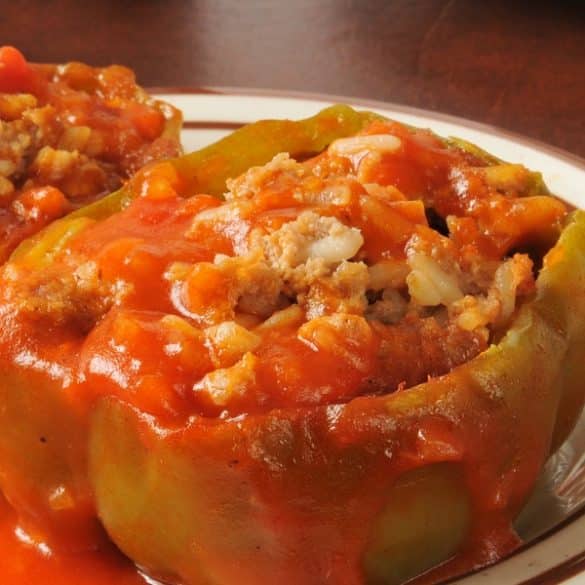 Ingredients
4 bell peppers, cut of the stem ends, cored

1 (120 ml) pound (480 g) ground beef

2 cups cauliflower rice

4 oz (120 ml) tomato sauce

1 teaspoon salt

1/4 teaspoon freshly ground black pepper

1 cup (250 ml) water

cooking spray
Instructions
In a food processor, combine cauliflower florets. Process until turns into rice texture.
Heat the cooking spray in an electric instant pot turned to the sauté mode.
Add ground beef and cook, stirring occasionally, for 5 minutes, or until lightly browned.
Add cauliflower rice, tomato sauce, and seasoning. Mix well to combine. Remove beef mixture form the cooker and transfer to a plate.
Wash the pot. Pour in the water, then install a trivet.
Stuff bell peppers with beef mixture, then them on the trivet.
Close the pot and lock the lid. Set the machine to cook at high pressure. Set the timer to cook for 5 minutes.
Using the quick Release method, bring pressure to normal. Carefully unlock and open the lid.
Remove stuffed bell peppers from the cooker and transfer to a serving plate. Serve hot.