Instant pot keto bacon mushroom green bean casserole. Learn how to cook easy and yummy green bean and mushroom casserole recipe in an electric instant pot.
You may also like Instant Pot Keto Stuffed Bell Peppers or Instant Pot Keto Meatloaf
Instant Pot Keto Bacon Mushroom Green Bean Casserole
I used Homemade Tamari Sauce to make this delicious recipe.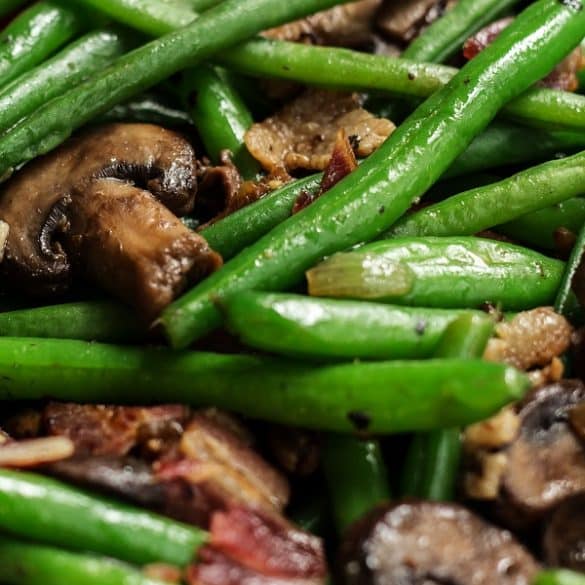 Ingredients
1 pound (480 g) green beans, trimmed

3 tablespoons (45 ml) unsalted butter

1 clove garlic, peeled and minced

1½ cups sliced mushrooms

2 teaspoons (10 ml) tamari sauce

1/8 teaspoon freshly ground black pepper

4 slices bacon, chopped
Instructions
Place trimmed green beans in 4-6-quart (4-6 L) electric instant pot. Pour in enough water to cover beans.
Cover the pot and lock the lid. Set the machine to cook at high pressure. Set the timer to cook for 2 minutes.
Using the Quick Release method, bring pressure to normal. Carefully unlock and open the lid.
Using a colander, drain cooked green beans and set aside. Dump out remaining liquid form the cooker and wipe dry.
Switch the instant pot to the sauté mode. Add sliced bacon and sauté until crisp.
Stir in butter, garlic, and mushrooms. Sauté, stirring occasionally, for a further 2 minutes.
Mix in tamari sauce and cook for another 1 minute or until mushrooms absorbs the sauce.
Return cooked green beans to the pot and mix well to combine. Sprinkle with salt and black pepper.
Serve hot.