Instant pot keto blueberry muffins recipe. Learn how to cook from scratch healthy and delicious muffins in an electric instant pot.
This dessert contains only 2 g net carbs.
Instant Pot Keto Blueberry Muffins Recipe
You may also like Instant Pot Keto Stuffed Bell Peppers or Instant Pot Keto Meatloaf Recipe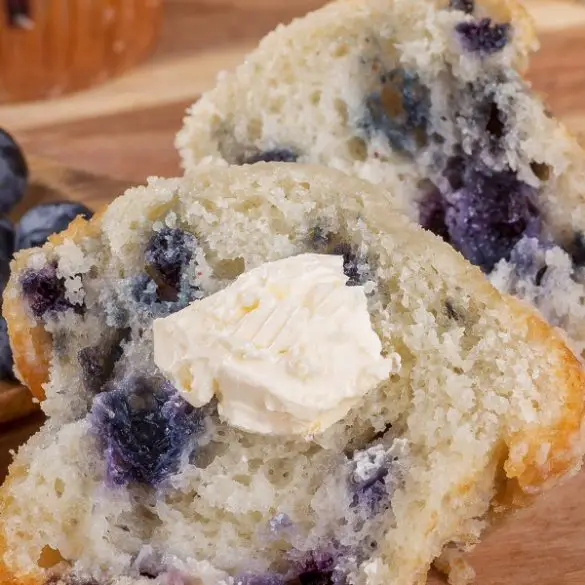 Ingredients
1/3 cup coconut flour

1½ tablespoons golden flaxseed meal

4½ tablespoons Swerve sweetener

1 teaspoon baking powder

1/4 teaspoon baking soda

1/8 teaspoon sea salt

1/3 cup (80 ml) unsweetened almond milk

2 large eggs, beaten

1½ tablespoons unsalted butter, melted

1 teaspoon vanilla extract

1/3 cup fresh blueberries
Instructions
In a large mixing bowl, combine coconut flour, flaxseed meal, Swerve sweetener, baking powder, baking soda, and sea salt. Mix well, breaking up any clumps. Set aside.
In another mixing bowl, combine almond milk, beaten eggs, melted butter, and vanilla extract. Mix thoroughly.
Combine two mixtures and stir until clump free. Fold in fresh blueberries and set aside.
Pour 1 cup (250 ml) water into 6-quart (6 L) electric instant pot.
Fill six silicone molds 3/4 of the way with muffin mixture, pressing the dough down into cups with your fingers.
Place a 10-inch (25 cm) sheet of aluminum foil on top of the steamer rack. Arrange muffins on the top of the foil-lined rack.
Fold the excess foil around the sides of muffins. Lower the rack into the pot. Cover muffins with another piece of aluminum foil.
Close the cooker and lock the lid. Set the machine to cook at high pressure. Set the timer to cook for 20 minutes.
Using the Natural Release method, bring pressure to normal. Carefully unlock and open the lid.
Remove aluminum cover. Using the rack handles, remove cooked muffins from the pot and transfer to a serving plate. Serve warm.