Instant pot keto broccoli cheese soup recipe. Easy and healthy broccoli and cheese soup cooked in an electric instant pot. Delicious!
You may also like Instant Pot Keto Beef Bourguignon
Instant Pot Keto Broccoli Cheese Soup Recipe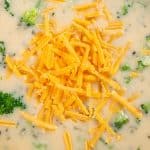 Ingredients
2 tablespoons unsalted butter

2 tablespoons minced garlic

3 cups (750 ml) low-sodium chicken broth (vegetable broth fits as well)

3 pounds (960 g) broccoli florets, washed

2 cups shredded sharp Cheddar cheese

1 cup shredded Monterey Jack cheese

1 tablespoon Dijon mustard

1/2 teaspoon paprika

1/8 teaspoon freshly ground black pepper

1 cup (250 ml) heavy cream

1/4 teaspoon salt

1 teaspoon xanthan gum
Instructions
Melt the butter in an electric instant pot turned to the sauté function.
Add minced garlic and cook, stirring occasionally, until fragrant, for about 30 seconds.
Pour the broth and continue cooking, stirring occasionally, for a further 1 minute.
Stir in broccoli florets. Close the pot and lock the lid. Set the machine to cook at high pressure. Set the timer to cook for 10 minutes.
Using the Natural Release method, bring pressure to normal. Carefully unlock and open the cooker.
Stir in shredded cheeses, mustard, paprika, and black pepper. Mix until cheese begins to melt.
Add heavy cream and continue stirring until ingredients are well-incorporated.
Using a measure cup, scoop out 3/4 cup (180 ml) of soup and transfer to a large mixing bowl. Add xanthan gum and stir well until soup thickened.
Return thickened soup back to the instant pot and mix well with the rest of soup.