Instant pot keto beef Bourguignon recipe. Beef with vegetables cooked in an electric pressure cooker. Very easy and tasty keto-diet recipe.
You may also like Instant Pot Creamy Mushroom Risotto
Instant Pot Keto Beef Bourguignon Recipe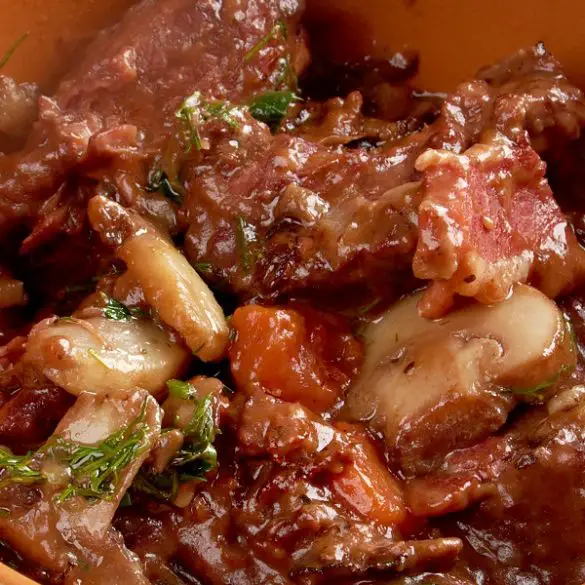 Ingredients
4 slices bacon, sliced

2 pounds (960 g) beef stew meat, cubed

1 tablespoon plus 1 teaspoon light olive oil

1 carrot, peeled and sliced

1/2 yellow onion, peeled and diced

12 oz (360 g) mushrooms, sliced

1 clove garlic, peeled and minced

1 teaspoon Xanthan Gum

1½ cups Burgundy wine

2 cups (500 ml) low-sodium beef broth

2 tablespoons tomato paste

1 teaspoon dried thyme

1 bay leaf

salt and freshly ground black pepper, to taste
Instructions
Cook the bacon until crisp in an instant pot turned to the sauté function.
Remove cooked bacon from the pot and transfer to a bowl. Pat it dry with paper towels.
Remove all but 1 tablespoon of the bacon drips from the cooker.
Working in batches, cook beef until browned on all sides. Remove cooked beef from the pot and transfer to a large bowl.
Add 1 tablespoon olive oil to the cooker. Add onions and cook, stirring occasionally, until softened, for about 2 minutes.
Stir in carrots and continue cooking for a further 1 minute. Add mushrooms and cook, stirring, for 5 minutes.
Stir in minced garlic. Cook for 1 minute more.
Remove cooked vegetables and mushrooms from the pressure cooker and transfer to the bowl with cooked beef.
Heat remaining oil in the pan. Add Xanthan Gum and stir well until dissolved completely.
Pour the wine into the pot and, using a spatula, scrap up any browned bits from the bottom of the cooker. Continue cooking until wine thickens, for about 1 minute.
Stir in the broth, to tomato paste, dried thyme, and bay leaf. Cook, stirring constantly, until thickened, for about 3 minutes.
Return cooked beef, vegetables and bacon to the cooker.
Close the pot and lock the lid. Set the machine to cook at high pressure. Set the timer to cook for 30 minutes.
Using the Quick Release method, bring pressure to normal. Carefully unlock and open the lid. Season stew with salt and black pepper, to taste.
Serve hot.