Instant pot creamy mushroom risotto recipe. Risotto with mushrooms, green peas, and herbs cooked in an electric instant pot. Super easy and tasty.
You may also like Instant Pot Keto Salisbury Steak
Instant Pot Creamy Mushroom Risotto Recipe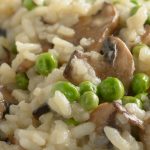 Ingredients
1/4 cup unsalted butter

1/4 cup (60 ml) olive oil

3 cups sliced mushrooms

1 medium yellow onion, peeled and diced

1 teaspoon minced garlic

1 teaspoon dried rosemary leaves

1 teaspoon dried thyme leaves

1½ cups uncooked Arborio rice

1/2 cup (125 ml) dry white wine

3 cups (750 ml) low-sodium chicken broth

salt and freshly ground black pepper, to taste

1 cup frozen green peas, thawed

grated Parmesan cheese
Instructions
Heat the butter and olive oil in an electric instant pot turned to the sauté function.
Once the butter is melted and oil is hot, add sliced mushrooms. Cook, stirring occasionally, for about 2 minutes.
Stir in onion, garlic, thyme, and rosemary. Continue cooking and stirring occasionally, for a further 4-5 minutes.
Add the rice and mix well. Cook for additional 2 minutes.
Pour in dry white wine and simmer, stirring constantly, for 2 minutes.
Add chicken broth and mix well to combine.
Close the pot and lock the lid. Set the machine to cook at high pressure. Set the timer to cook for 6 minutes.
Using the Quick Release method, bring pressure to normal. Carefully unlock and open the lid.
Stir cooked risotto well, then season to taste with salt and black pepper. Mix in green peas and shredded cheese.
Serve hot.