Instant pot broccoli and cheese pasta. A quick and easy recipe that takes only a few minutes to make. These delicious pasta dishes are perfect for busy nights.
Health Benefits of the Instant Pot for Weight Loss
The Instant Pot is a kitchen appliance that has been in the news lately due to its health benefits. It is a popular tool for weight loss and healthy eating.
The instant pot can help you lose weight by cooking whole meals in one pot. You can also cook your favorite dishes without any oil or butter. The Instant Pot has many health benefits, which are good for your heart and overall well-being.
Many people have been using the instant pot as a way to lose weight and improve their health. A diet plan that includes the use of the instant pot can be very effective because it cuts down on calories, fat, and carbs while providing balanced nutrition.
Instant Pot Broccoli and Cheese pasta
I just go out to my kitchen and see what I can throw into the Instant Pot and see what comes out. Recently I made a to-die-for Instant Pot Cheddar and Broccoli Pasta.
As much as many parents worry about adding more dairy into their family's diet, they can be innovators of new and healthy meal ideas. One option is cheesy pasta with broccoli. This dish will make your whole family crave healthy meals and be excited to try new flavor combinations.
Can I Add Chicken to This Dish? 
This is a great Instant Pot Meal that will keep you on schedule and provide one consistent meal. One thing to be certain of is that you can even add in some frozen chicken or ham and make it a complete meal.
In everyday life, many of us struggle to find time to eat. Luckily, this brand new technology allows you to have your entire meal ready in under 15 minutes.
I make a large batch of Chicken breast fillets in my sous vide every week so I can add them to any meal.
What Kind of Pasta Do You Use for the Broccoli Pasta Recipe?
Shape up your pasta. You're welcome to use any type of shape you like. You want it to be a dry pasta that isn't too small in size so you can use the entire weight of the sauce. If you use too small of pasta, the sauce will cook faster and it will become mushy. It is not recommended to use spaghetti as a noodle dish.
Do You Use Fresh Or Frozen Broccoli?
Frozen broccoli is a tried and true option when it comes to adding more veggie-packed dishes to your diet without changing up the flavorful recipe much.
Instant Pot Broccoli and Cheese Pasta
You may also like:
Air Fryer Frozen Turkey Twizzlers Recipe
Air Fryer Irish Soda Bread Recipe
Instant Pot Strawberry Jam Recipe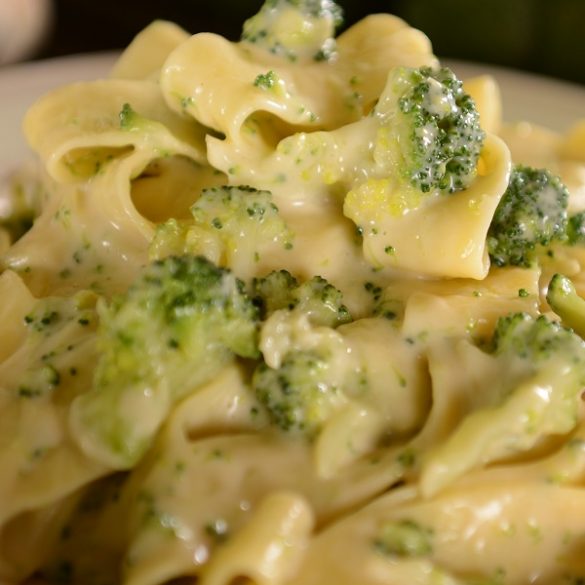 Ingredients
1 pound (480 g) uncooked pappardelle pasta

4 cups (1 L) of water

1 pound (480 g) frozen broccoli

1 cup (250 ml) milk (use half-and-half as a substitute)

2 tablespoons unsalted butter

1 pound (480 g) grated Cheddar cheese

1/4 teaspoon freshly ground black pepper

1 teaspoon garlic powder

1/2 tablespoon salt
Instructions
Place the pasta in an electric instant pot. Pour water over the pasta.
add butter and frozen broccoli. Stir well.
Close the pot and lock the lid.
Set the machine to cook at high pressure. Set the timer to cook for 4 minutes.
Using the Quick Release method, bring pressure to normal. Carefully unlock and open the lid.
Switch the cooker to saute mode.
Stir in milk, Cheddar cheese, and seasoning.
Serve hot.