Air fryer chicken fritters recipe. These chicken fritters are the perfect healthy and delicious recipe for your weeknight meal. They're quick, easy, and perfect for the whole family.
What is an Air Fryer and What are Some of Its Benefits?
An air fryer is a cooking tool that uses heated air to cook food. It is popular in the United States, where it has been around since the 1970s.
Air frying is a great way to reduce fat intake and calories. It also makes food taste better because the moisture is retained in the food instead of being lost through cooking methods like deep frying or grilling.
The air fryer can be used for a variety of different foods, from vegetables to meat and even desserts. It can also be used for other purposes like making bread, pasta, and cake pops!
What are Air fryer chicken fritters?
Air fryers are one of the most popular kitchen appliances nowadays. They are easy to use and make cooking a lot faster. However, they are also a great choice for low-calorie cooking.
Air fryer chicken fritters is a healthy dish that is made with chicken and breadcrumbs. It tastes crispy even though it's low in calories because of the air fryer's process of cooking food at lower temperatures.
How long is it typically cooking for these air-fried chicken fritters to cook?
These air-fried chicken fritters are best served with a side of fries or bread.
The cooking time for these air-fried chicken fritters is typically around 10 minutes.
What kind of sauces can be used with chicken fritters?
Chicken fritters are a popular dish in the UK. They are made from a mixture of chicken, flour, and eggs. These ingredients can be used to make different types of sauces such as sweet and sour or spicy hot sauce.
There are many different types of sauces that can be used with chicken fritters. Some common ones include balsamic vinegar, honey mustard, and mayonnaise.
Air Fryer Chicken Fritters Recipe
You may also like:
Instant Pot Broccoli and Cheese Pasta
Air Fryer Sweet Potato Curly Fries Recipe
Air Fryer Irish Soda bread Recipe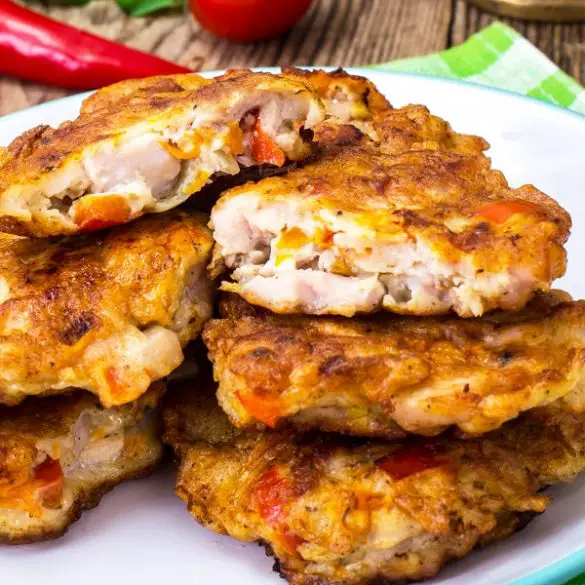 Ingredients
1 pound (480 g) chopped or ground chicken

1/4 cup shredded Parmesan cheese

1/4 cup shredded Provolone cheese

1 teaspoon garlic powder

1 teaspoon onion powder

1 teaspoon salt

1 teaspoon freshly ground black pepper

1/2 of red bell pepper, cored and finely chopped

1/2 of yellow bell pepper, cored and finely chopped

1/2 cup Panko breadcrumbs

1 tablespoon chopped fresh dill
Instructions
In a large mixing bowl, combine all ingredients. Mix well.
Shape the chicken mixture into the patties.
Place in oiled air fryer basket. Fry at 350º F (175º C) for 10 minutes, flipping them halfway through.
Serve hot with your favorite dipping sauce.