Slow cooker Buffalo chicken meatballs recipe. These Buffalo chicken meatballs will have your guests licking their fingers! The only thing you need is a few simple ingredients to make this recipe for the whole family.
What are the benefits and uses of using a slow cooker?
Slow cookers are perfect for cooking several dishes at once. They also help in saving time and energy as they require less attention.
Slow cookers are also a great way to make healthy meals for your family. You can keep the meals simple and low-calorie by using lean proteins, fresh vegetables, and whole grains.
What Do Buffalo Chicken Meatballs Taste Like?
Buffalo chicken meatballs are a popular dish that is made with buffalo sauce, ground chicken, and ranch dressing.
Buffalo chicken tastes like a spicy mix of hot sauce and ground chicken with a hint of ranch dressing. It can also be enjoyed as an appetizer or main dish.
How to Make the Best Slow Cooker Buffalo Chicken Meatballs Recipe
The slow cooker buffalo chicken meatballs recipe is a delicious and easy recipe that can be made with ingredients you have in your kitchen. It's a great dish for the whole family, but it also makes for a great appetizer or game day party food.
The following steps will help you make the best buffalo chicken meatballs recipe:
– Prepare the sauce, which consists of hot sauce, butter, garlic, salt, and pepper.
– Add some flour to the sauce to thicken it up.
– Form ground chicken into meatballs and cook them in the sauce until they are cooked through.
– Add more buffalo wing sauce to the meatballs while they are cooking in order to coat them better.
Slow Cooker Buffalo Chicken Meatballs Recipe
You may also like:
Air Fryer Frozen Turkey Twizzlers Recipe
Air Fryer Sweet Potato Curly Fries Recipe
Instant Pot Strawberry Jam Recipe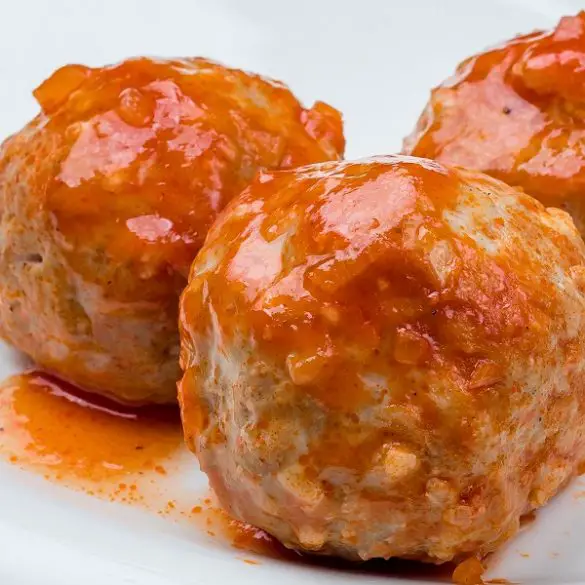 Ingredients
1 pound (480 g) ground chicken

1/2 cup Panko breadcrumbs

1 large egg, lightly beaten

1/2 cup grated Parmesan cheese

1/2 teaspoon garlic powder

1/2 teaspoon onion powder

1/2 teaspoon smoked paprika

3/4 cup (180 ml) Buffalo sauce

1/4 cup ranch dressing
Instructions
Preheat the oven to 400º F (200º C). Line the baking sheet with a tin piece of aluminum foil and spray with nonstick cooking spray.
In a large mixing bowl, combine the ground chicken, breadcrumbs, beaten egg, cheese, garlic powder, onion powder, and smoked paprika.
Mix well. Using a tablespoon, roll the chicken mixture into 1-inch (2.5 cm) meatballs and place them on the prepared baking sheet.
Arrange the baking sheet on the middle rack of the preheated oven and bake for 8 minutes.
Turn off the oven and remove baked meatballs from it. Transfer them into a slow cooker.
Pour Buffalo sauce over the meatballs in the slow cooker. Toss well to coat.
Cover the pot and cook on a low-heat setting for 2 hours.
Turn off the slow cooker and open the lid. Using a slotted spoon, remove cooked meatballs from the cooker and transfer them to a serving plate. serve hot with a ranch dressing. Enjoy!