Slow cooker Tuscan bread soup recipe. A very easy and delicious Italian vegetarian soup, also known as "Ribollita" cooked in a slow cooker. You may also like Mushroom-Barley Soup
Are you looking for more easy and tasty slow cooker recipes? We have a big collection of them, please check it out-Slow Cooker Recipes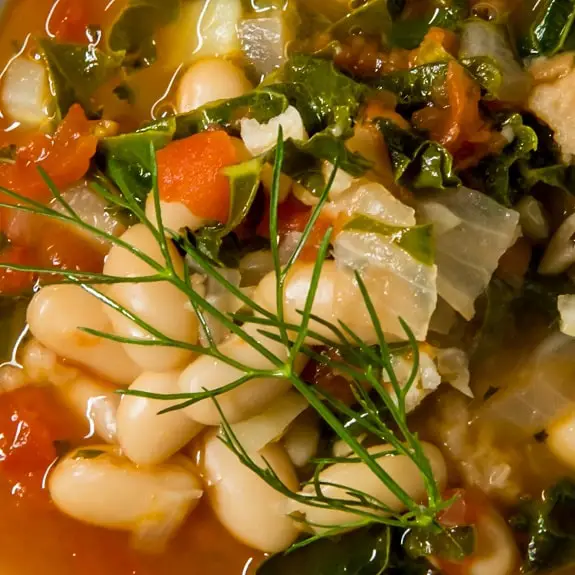 Ingredients
1 pound (480 g) dried white beans, rinsed, soaked overnight and drained

1 pound (480 g) fresh kale, chopped

4 cups (1 L) vegetable broth

1 medium yellow onion, peeled and chopped

3 carrots, peeled and sliced

2 stalks celery, finely chopped

2 tablespoons (30 ml) olive oil, plus more for serving

2 tablespoons (30 ml) tomato paste

4 cloves garlic, peeled and minced

28-oz (840 ml) can whole peeled tomatoes, crushed

half loaf crusty bread, chunked

2½ teaspoons salt, divided

1/2 teaspoon freshly ground black pepper
Instructions
In a 6-quart ( 6 L) slow cooker, combine white beans, kale, vegetable broth, onion, carrots, celery, olive oil, tomato paste, and minced garlic. Mix well, then stir in crushed tomatoes.
Stir in chunked bread, then season with 1½ teaspoons salt and black pepper.
Cover the pot and cook on low-heat setting for 7-8 hours or until beans are tender.
Turn off the slow cooker and open the lid. Stir the soup well before serving. Ladle into soup bowls. Season with the remaining salt and drizzle with olive oil. Serve hot.