Air fryer breaded olives recipe. Why choose a traditional fryer when you can have a healthier, tastier option? In minutes, your olives will be breaded, cooked to perfection with juicy meat within, and ready for your plate.
Can air fryer breaded olives be used in any dish?
The answer is no. Fried breaded olives can be used in a dish that has a sauce or gravy, but not in a dish that has a lot of liquid.
Breaded olives are not the best option for any dish with a lot of liquid. This is because they will become soggy and lose their crispiness.
What are the benefits of using an air fryer to bread olives?
There are many benefits to using an air fryer, such as healthier breading, no oil needed, and breading staying crispy.
The olive is a healthy food that can be enjoyed in many different ways. An air fryer is a great way to make the olive taste even better and healthier.
What can I use an air fryer for other than breading olives?
There are many other things that you can use an air fryer for. You can use it to make your own chips, cook bacon, make toast, cook eggs, and more.
Air Fryer Breaded Olives Recipe
You may also like:
Air Fryer Cabbage Steaks Recipe
Air Fryer Vegan Jalapeno Cornbread Recipe
Air Fryer Crispy Onions Recipe
Slow Cooker Bean and Barley Soup Recipe
Air Fryer Italian Focaccia Bread Recipe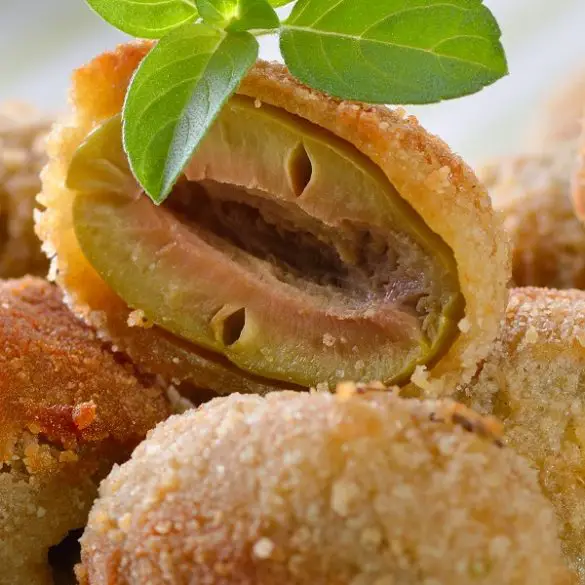 Ingredients
1/2 cup all-purpose flour

1 large egg, beaten

1/2 cup Panko breadcrumbs

1/4 cup grated Parmesan cheese

6 oz (180 ml) jr jalapeno-stuffed olives, drained
Instructions
Preheat your air fryer to 400º F (200º C) for 5 minutes.
Sift all-purpose flour in a bowl. In a separate bowl, place the beaten egg. In a third small mixing bowl, combine breadcrumbs and grated cheese. Stir well.
Coat jalapeno-stuffed olives in flour first, then in egg, and finally in the breadcrumb mixture.
Working in batches, place breaded olives in the air fryer basket. Spray with nonstick cooking spray.
Fry for 12 minutes, shaking halfway through. Repeat with remaining olives.