Air fryer sweet apple fritters recipe. These healthy apple fritters are so tasty and crunchy you won't believe they're fried in an air fryer without oil!
What are the benefits of an air fryer?
Air fryers are a new cooking appliance that is becoming increasingly popular. They use hot air to cook food instead of oil, which means that they are healthier for you. Air fryers can be used to cook anything from french fries to chicken wings, and the best part is that the food tastes just as good as if it was cooked in oil.
This section will talk about what makes an air fryer different from other cooking appliances and how it can be used in everyday life.
What kind of apple do you need make apple fritters?
The recipe calls for a tart apple, but it doesn't specify what kind of tart apple.
Use a Golden Delicious or Granny Smith.
Air Fryer Sweet Apple Fritters Recipe
You may also like:
Instant Pot Red Lentil Soup Recipe
Slow Cooker Vichyssoise Soup Recipe
Slow Cooker Vidalia Onion Soup Recipe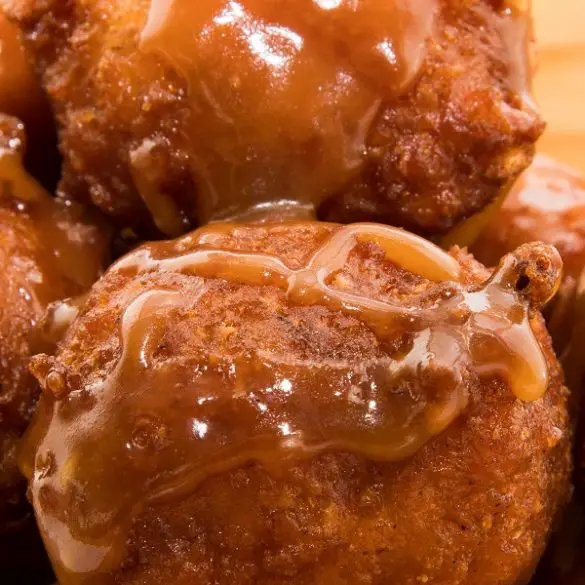 Ingredients
1 cup peeled and chopped Granny Smith apples

1/2 cup granulated sugar

1 teaspoon ground cinnamon

1 cup all-purpose flour

1 teaspoon baking powder

1 teaspoon salt

2 tablespoons milk

2 tablespoons unsalted butter, melted

1 large egg, beaten
Instructions
In a small mixing bowl, combine chopped apples, sugar, and cinnamon. Mix well and set aside.
Allow it to sit for 30 minutes.
In a medium mixing bowl, combine the flour, baking powder, and salt.
Add the milk, melted butter, and egg. Mix well to incorporate.
Pour the apple mixture into the bowl of the flour mixture.
Using a wooden spatula, stir until a dough forms.
Transfer the dough to a clean work surface. Divide into 12 equal portions, then shape into 1-inch (2.5 cm) balls.
Line the air fryer basket with parchment paper, then spray with nonstick cooking spray.
Transfer apple fritters onto the parchment paper. Spray them with cooking spray.
Fry at 350º F (175º C) for 7-8 minutes, or until lightly browned, shaking halfway through.
Serve warm.