Air fryer sweet potato souffle recipe. Traditional potato souffle fried in an air fryer. Cook it in an instant pot- Instant Pot Sweet Potato Casserole
Air Fryer Sweet Potato Souffle Recipe
You may also like:
Air Fryer Roasted Pumpkin Recipe
Air Fryer Purple Potato Chips Recipe
Air Fryer Spicy Peanuts Recipe
Slow Cooker Potato and Eggplant Curry
Air Fryer Roasted Carrots Recipe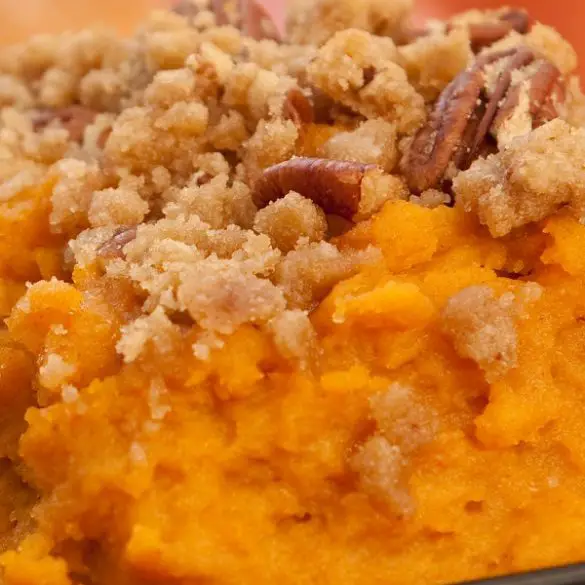 Ingredients
1 sweet potato, baked, peeled and mashed

2 tablespoons unsalted butter, melted and divided

1 large egg, yolk and egg white separated

1/4 cup (60 ml) whole milk

1/2 teaspoon kosher salt

breadcrumbs

pecans, for garnish
Instructions
In a medium mixing bowl, combine mashed sweet potato, 1 tablespoon of melted butter, egg yolk, milk, and salt.
Mix well and set aside.
Place egg white in a separate medium bowl. Whisk until stiff peaks form.
Using a wooden spatula, gently fold the egg white into the potato mixture.
Grease the inside of four 3-inch (7.5 cm) ramekins with the remaining butter. Fill each greased ramekin halfway full.
Working in batches, bake at 330º F (165º C)  for 15 minutes.
Repeat with the remaining ramekins.
Remove baked potato souffle from the fryer and transfer to a wire rack. Allow to cool for 10 minutes before serving.
Sprinkle with breadcrumbs and pecans. Serve warm.