Slow cooker potato and eggplant curry. Healthy and yummy vegetarian recipe cooked in a slow cooker. This meal is also known as Aloo Baingan belongs to Indian cuisine.
You can also prepare it in an electric instant pot-Instant Pot Aloo Baingan
Slow Cooker Potato and Eggplant Curry
You may also like:
Slow Cooker Apple Butter Recipe
Classic Indian Creamed Spinach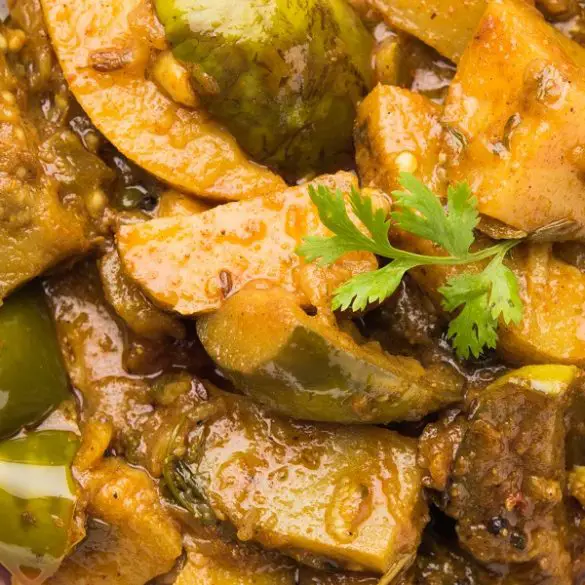 Ingredients
2½ cups sliced eggplants

1½ cups sliced potatoes

1 tablespoons mild curry powder

1/2 teaspoon shredded ginger

1/2 teaspoon shredded garlic

1 green chili, sliced

1/2 teaspoon red chili powder

1/4 teaspoon ground turmeric

1/2 teaspoon ground coriander

1½ tablespoons jaggari (combined molasses and brown sugar)

pinch of salt

3 tablespoons water

2 tablespoons oil

1/2 teaspoon mustard seeds
Instructions
In a slow cooker, combine all ingredients, except  oil and mustard seeds. Stir well.
In a small sauce, combine 2 tablespoons oil and mustard seeds. Cook over high heat until the mustard pops.
Remove mustard mixture from the heat and pour over vegetables in a slow cooker.
Cover the pot and cook on high-heat setting for 2 hours.
Turn off the cooker and open the lid.
Remove cooked potato and eggplant curry and transfer to a serving plate.
Garnish with fresh coriander leaves.