Classic Indian creamed spinach recipe. Very easy and healthy Indian vegetarian recipe.
American creamed spinach call for a heavy thickened white sauce, but Indian producing a smooth, creamy dish without the use any flour.
For the great flavor and substance, I added to this vegetarian recipe Indian flavors – ground cumin, turmeric, coriander,   ginger, and tomatoes.
This spinach side dish is excellent served with curries, dal, raita, or cooked rice. You can prepare this tasty dish ahead, reheating it in a double broiler over slowly boiling water. Alternatively, reheat it in a microwave oven.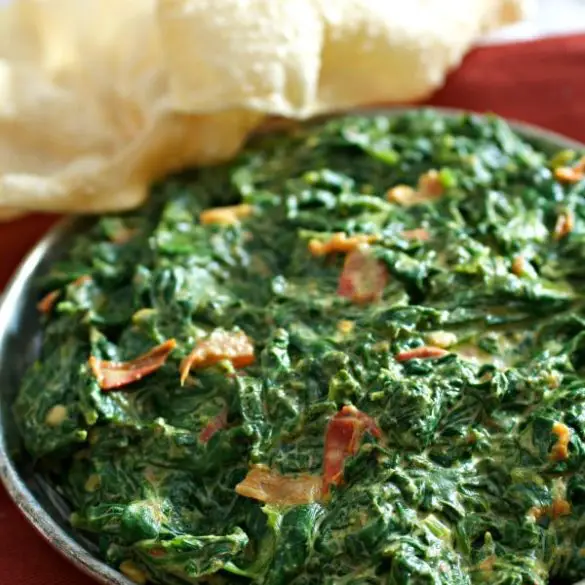 Ingredients
2 pounds (960 g) fresh spinach leaves, stemmed

4 tablespoons (60 ml) unsalted butter

1 teaspoon (5 ml) cumin seeds

1/2 teaspoon (3 ml) freshly ground coriander

1/4 teaspoon (1 ml) ground turmeric

1 medium yellow onion, peeled and finely chopped

3 cloves garlic, peeled and finely chopped

1 tablespoon (15 ml) finely chopped fresh ginger

1 teaspoon (5 ml) chopped mild green chili, seeded and ribs removed

2 ripe plum tomatoes, diced

1/2 teaspoon finely chopped red chili pepper, seeded and ribs removed

1/3 cup (80 ml) low-sodium fat-free chicken broth

1/4 cup (60 ml) heavy (double) cream

salt, to taste
Instructions
Rinse spinach leaves well, shaking off any excess off the water.
Place washed spinach into a large heavy pot. Cover and cook over medium-high heat until completely wilted, for about 3-4 minutes, stirring occasionally.
Remove the pot from the heat. Using a colander, drain cooked spinach well, then chop coarsely and set aside.
In a  heavy saucepan, melt the butter over low heat. Add the cumin seeds, ground coriander, and turmeric. Cook, stirring constantly, for about 2 minutes. Stir in the onion and garlic and continue cooking and stirring, until wilted and lightly golden, for about 6-8 minutes.
Stir in grated ginger and mild green chili. Cook for a further 1 minute. Add diced tomatoes and red chilies, then increase heat to medium and cook, stirring often, for about 8 minutes.
Add reserved chopped spinach and cook, stirring, over medium-high heat for 5 minutes more, then pour in chicken broth and heavy cream. Whisk well. season to taste with salt. Cook to heat through, then remove from the heat and serve immediately.