Air fryer chili garlic tofu recipe. Learn how to cook easy and healthy tofu in an air fryer.
You may also like Air Fryer Vegetarian Sweet Potatoes
Air Fryer Chili Garlic Tofu Recipe
I used Homemade Chili Garlic Sauce to make this recipe.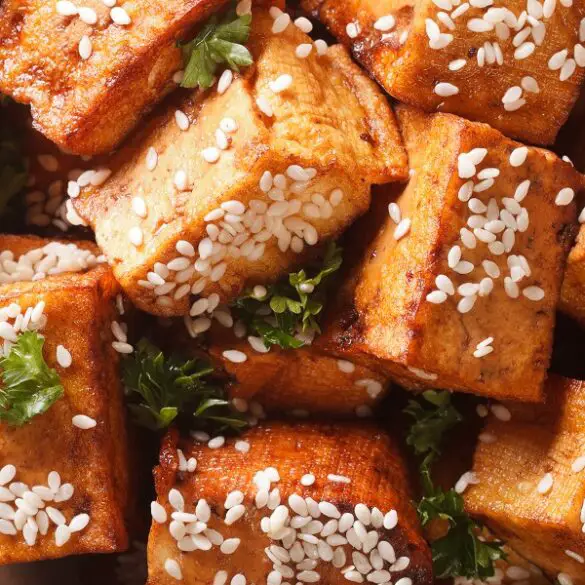 Ingredients
1 package tofu

1/2 cup cornstarch

1 tablespoon (15 ml) olive oil

1/4 cup (60 ml) low-sodium soy sauce

2 tablespoons (30 ml) chili garlic sauce

1 tablespoon (15 ml) rice vinegar

1½​ tablespoons (22 ml) brown sugar

1 teaspoon (5 ml) grated ginger

2 garlic cloves, peeled and minced

1 teaspoon (5 ml) sesame oil

1/2 teaspoon toasted sesame seeds
Instructions
Gently wrap tofu in multiple layers with paper towels. Top with something heavy. Leave for 30 minutes.
Cut tofu into cubes.
In a large zip top bag, combine cubed tofu and cornstarch. Shake well to coat.
Remove tofu pieces from the bag and transfer to a medium bowl. Drizzle with olive oil and toss well.
Working in batches, place tofu in the air fryer basket. Set the temperature at 370 F (185 C).
Fry for 15 minutes.
Remove fried tofu from the fryer and transfer to a large bowl.  Repeat with remaining tofu.
In a large nonstick skillet, combine remaining ingredients, except sesame seeds and sesame oil.  Mix well.
Bring to boil over medium-high heat. Reduce the heat to low and simmer for 1 minute.
Stir in sesame oil and continue cooking for a further 1 minute.
Remove fried tofu from the skillet and transfer to a serving plate. Sprinkle with toasted sesame seeds. Serve hot.