Air fryer vegetarian Tso's cauliflower recipe. Very easy and healthy cauliflowers cooked in an air fryer.
You may like as well:
Air Fryer Vegetarian Sweet Potatoes
Instant Pot Healthy Lentil Chickpea Soup
Air Fryer Vegetarian Tso's Cauliflower Recipe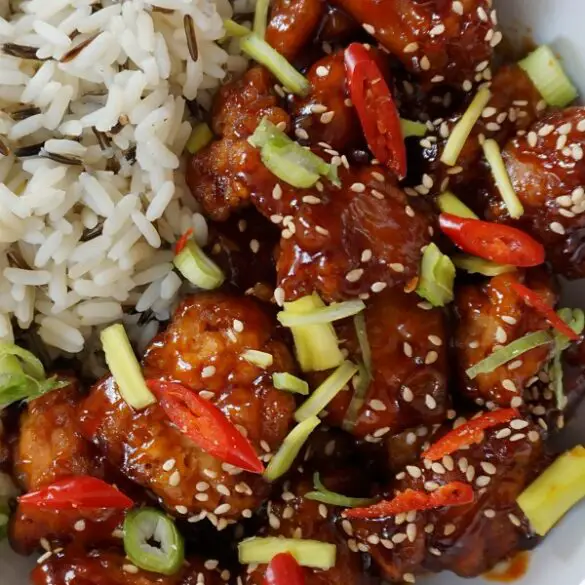 Ingredients
1/2 head cauliflower, cut into florets

1/2 cup all-purpose flour

2 large eggs, beaten (for vegan, use egg substitute powder)

1 cup Panko breadcrumbs

1/4 teaspoon salt

1/4 teaspoon freshly ground black pepper

sesame seeds, for garnish

chopped green onion, for garnish

For General Tso's Sauce:

1 tablespoon sesame oil

2 cloves garlic, peeled and minced

1 tablespoon freshly grated ginger

1/2 cup (125 ml) vegetable broth

1/4 cup (60 ml) soy sauce

1/4 cup (60 ml) rice vinegar

1/4 cup (60 ml) brown sugar

2 tablespoons tomato paste

2 tablespoons dissolved cornstarch and water (2 tablespoons of each)
Instructions
Preheat your air fryer to 400º F (200º C).
Place all-purpose flour, beaten eggs, and breadcrumbs in separate bowls.
Stir salt and black pepper into Panko breadcrumbs.
Working in batches, dip the florets in flour, then egg, then, breadcrumb mixture.
Place in the air fryer basket. Fry at 375º F (190º C) for 10-12 minutes or until crispy. (please note, the cooking time is just an estimate and can vary based on Air Fryer model)
To Make Tso's Sauce:
In a small saucepan, combine sesame oil, garlic, and ginger. Cook over medium heat, stirring occasionally, until fragrant, for about 2 minutes.
Stir in the remaining ingredients, except cornstarch mixture.  Whisk to combine and bring to a simmer.
While whisking, pour gently the cornstarch mixture. Continue simmering and stirring until the mixture is thickened.
Remove the saucepan from the heat and set aside.
Drizzle the sauce over fired cauliflowers and toss well to coat. Sprinkle with sesame seeds and chopped green onions.
Serve over the cooked rice.