Instant pot steamed clams recipe. Clams are a popular seafood dish and this Instant Pot recipe will make steamed clams in just minutes.
The Benefits of Cooking with an Instant Pot
With the introduction of the Instant Pot, cooking has changed for the better. It is a multi-functional appliance that can be used for a variety of purposes. It is also very easy to use and clean up after.
The Instant Pot is an electric pressure cooker with a timer and automatic keep-warm function that can cook food faster than other methods such as boiling or steaming.
It can be used to prepare soups, stews, pot roasts, beans, rice dishes, and much more!
One of its best features is its ability to brown meat in just minutes without any burning or scorching on the bottom of the pot.
Cooking with an Instant Pot has made it possible for busy individuals to put their time towards something else rather than spending hours cooking meals at a time. The newest model of Instant Pot, the IP-Duo60, has a programmable option with an LCD screen. This allows users to customize their cooking process by pre-programming different settings for various dishes.
The Instant Pot Steaming Technique for Perfecting the Steamed Clam Dish
Steaming clams is a process that many people find difficult to master. But with the help of the Instant Pot, it becomes easier and more manageable.
The steaming technique for perfecting the steamed clam dish is simple: sear them in a skillet before cooking them in the Instant Pot. Once they are seared, place them into the pot and let them steam for 20 minutes or so. You will be able to enjoy your perfectly cooked clams without any hassle!
As an added bonus, you will not have to worry about cleaning up your stovetop after you are done cooking because it is all done in one pot!
Instant pot Steamed Clams Recipe
You may also like:
Instant Pot Steamed Salmon Fillets Recipe
Air Fryer Chocolate Cake Recipe
Instant Pot Turkey Sausage and Macaroni Casserole
Slow Cooker Lamb Biriani Recipe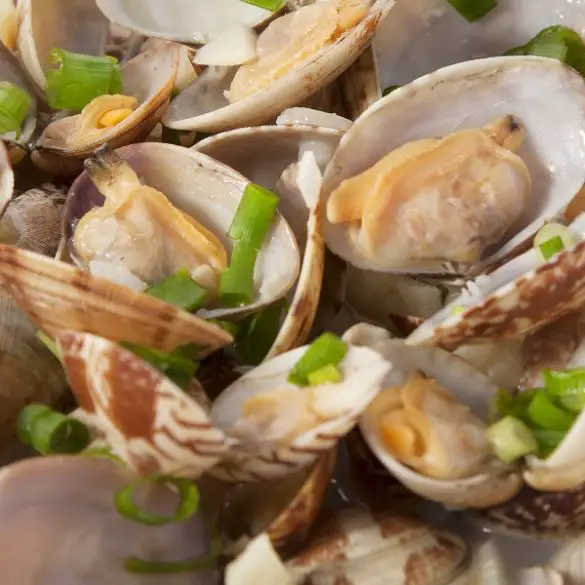 Ingredients
3/4 cup (180ml) dry white wine

3/4 cup (180 ml) olive oil

2 tablespoons grated ginger

1 teaspoon minced garlic

1/2 teaspoon freshly ground black pepper

28 littleneck clams, scrubbed

chopped green onion
Instructions
In a 6-quart (6 L) electric instant pot, combine the oil, ginger, garlic, dry white wine, and black pepper. Mix well.
Add the clams and stir well again.
Close the pot and lock the lid. Set the machine to cook at high pressure. Set the timer to cook for 3 minutes.
Using the Quick Release method, bring pressure to normal. Carefully unlock and open the lid.
Stir the clam mixture gently before serving in bowls. Sprinkle chopped green onion.
Discard any clams that do not open.