Classic air fryer scallops recipe. The air fryer produces the most convincing and crisp crust on a scallop. This is the simplest and quickest recipe to make scallops with a crispy crust in an air fryer.
What the Different Types of Air Fryers are and What They're Good For
Air fryers are not just for cooking, they can also be used in other ways. They can be used to make frozen desserts, breading, and even as a dehydrator.
An air fryer is a kitchen appliance that uses hot air circulated by an electric fan to cook food quickly, without any oil or fat. It is the latest innovation in the kitchen appliances market and has taken over from traditional deep fryers.
Different Types of Air Fryers: There are many different types of air fryers on the market today. Some have only one function while others have multiple functions depending on what you need them for.
How to Cook a Perfectly Cooked Scoop of Scallops with Your Air Fryer
Scallops are known for their delicate flavor and succulent texture. But cooking them in an air fryer can be difficult. This is because the scallops tend to stick to the bottom of the fryer and it is difficult to flip them over.
However, using a little bit of water and oil will help you cook these scallops evenly without any problem.
Classic Air Fryer Scallops Recipe
You may also like:
Instant Pot Lentil Sauce Recipe
Slow Cooker Pasta Salad with Eggplants
Instant Pot Steamed Clams Recipe
Instant Pot Steamed Salmon Fillets Recipe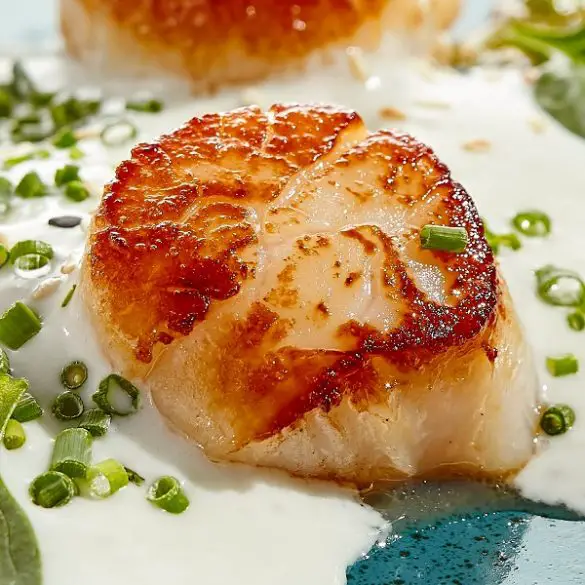 Ingredients
12 medium scallops, rinsed and patted dry

1 teaspoon sea salt

2/4 teaspoon freshly ground black pepper

avocado oil spray
Instructions
Spray the air fryer basket with avocado oil spray.
Place the scallops in a medium bowl, then sprinkle with oil spray. Season with salt and black pepper.
Transfer seasoned scallops to the oiled air fryer basket.
Working in batches, fry at 390 F (195 C) for 4 minutes, flipping them halfway through.
Remove fried scallops from the fryer and transfer them to a serving bowl.
Repeat with remaining scallops.
Serve hot.