Slow cooker green bean casserole recipe. How to make the ultimate green bean casserole recipe in the slow cooker. Simple, delicious, and crowd-pleasing.
What is a Green Bean Casserole?
The Green Bean Casserole is a casserole dish that is made with green beans, cream of mushroom soup, sour cream, and French-fried onions.
How to Make the Perfect Bean Casserole in a Slow Cooker
This is a simple recipe for green bean casserole that is perfect for any occasion.
We all know how easy it is to make a green bean casserole in the oven, but this recipe requires no cooking and leaves you with a delicious side dish.
The secret ingredient to the perfect green bean casserole is cream of mushroom soup. It gives the sauce an amazing flavor and makes it incredibly creamy. The green beans are a perfect addition to any meal and combined with other ingredients make the recipe a great option for any day.
How to Heat Up Your Frozen Green Beans in the Slow Cooker for an Easy and Fast Holiday Side Dishes
Frozen green beans are an easy and healthy side dish that can be cooked in a slow cooker. This recipe is a perfect way to add some flavor to your holiday meal.
Frozen green beans are a healthy, delicious side dish that is perfect for the holidays. They can be cooked in the slow cooker in just 2 hours on a high heat setting, making them simple and easy to prepare for your guests.
It's important to note that these frozen green beans will not get crispy like if they were fried or baked, but they do have a nice flavor and texture that make them a delicious side dish for any occasion.
Slow Cooker Green Bean Casserole Recipe
You may also like:
Slow Cooker Pasta Salad with Eggplants
Slow Cooker Italian Mushroom Risotto Recipe
Slow Cooker Lentil Stew with Spiced Couscous
Slow Cooker Country Lentil Soup Recipe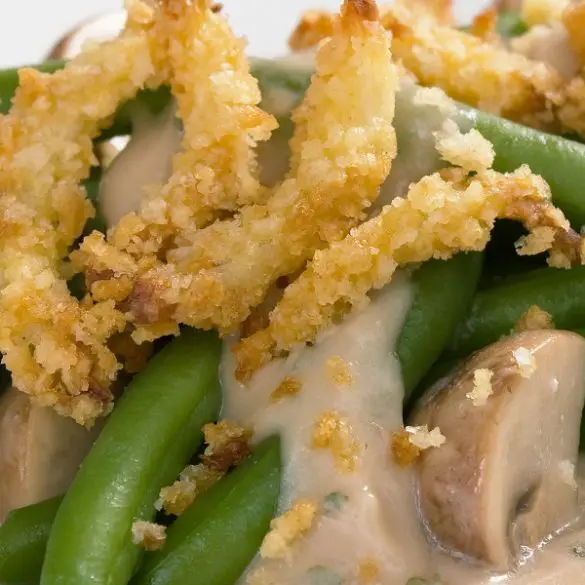 Ingredients
1 can (10¾ oz (325 ml)) fat-free cream of mushroom soup

1/2 cup (125 ml) low-fat sour cream

1/4 cup (60 ml) low-fat milk

1 package 10 oz (300 g) frozen French-style green beans, thawed

salt and freshly ground black pepper, to taste

1/2 cup French-fried onions
Instructions
In a 6-quart (6 L) slow cooker, combine cream of mushroom soup, sour cream, and milk. Mix well.
Stir in thawed green beans.
Cover the pot and cook on a low-heat setting for 4-6 hours.
Turn off the cooker and open the lid. Stir the casserole well before serving.
Transfer cooked green bean casserole to a serving plate. Top with French-fried onions. Serve immediately.