Instant pot farfalle pasta with mushrooms and cream. Farfalle pasta is a type of ribbon-shaped, flat noodle that comes in a variety of shapes and colors. It is often used in recipes that include mushrooms, spinach, cheese, or cream.
What are some of the Benefits of Cooking With an Instant Pot
Instant Pot is a popular brand of pressure cookers. They are known for their convenience and easy cooking. The instant pot has many benefits such as it can be used to make rice, soup, stew, meat, and vegetables.
How to Make Farfalle Pasta in Your Instant Pot
Farfalle pasta is a type of pasta that is traditionally made with egg, flour, and water. It's easy to make at home and can be cooked in a pressure cooker or pot.
In this recipe, we will use canned chickpeas for the protein and vegetable broth for the liquid. We will also use salt, black pepper, garlic powder, dried basil, and dried oregano to flavor the farfalle pasta before cooking it in your Instant Pot.
The Instapot makes it easy to cook your farfalle pasta in just minutes by cooking on high pressure for 2 minutes followed by 5 minutes of natural release time.
Instant pot technology is revolutionizing cooking, allowing users to prepare food in minutes. You can also use a simple meal as a template to create your own dishes and customize them with your own personal touches.
Some of the recipes that are created using the instant pot are pasta dishes, soup, and chilis. This particular recipe is an easy method of making farfalle pasta with mushroom sauce. It is vegetable broth-based and it only takes 10 minutes to make this dish.
This quick yet tasty recipe requires minimal ingredients that most people would have in their pantry at all times. The components are broth mixed with flour, butter, garlic, salt, and fresh mushrooms sautéed in olive oil until browned before adding the white wine.
Instant Pot Farfalle Pasta with Mushrooms and Cream
You may also like:
Instant Pot Lentil Sauce Recipe
Instant Pot Steamed Clams Recipe
Instant Pot Steamed Salmon Fillets Recipe
Instant Pot Turkey Sausage and Macaroni Casserole
Instant Pot Minestrone Soup Recipe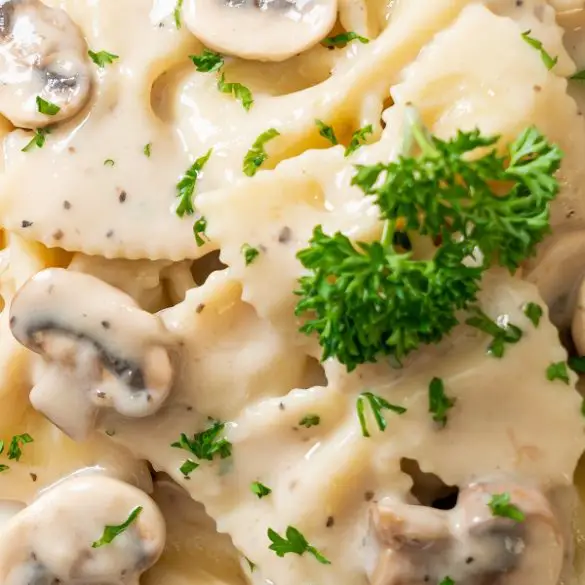 Ingredients
3 cups (750 ml) vegetable broth

2½ tablespoons all-purpose flour

1 tablespoon unsalted butter

2 tablespoons olive oil

1/2 tablespoon minced garlic

1/2 tablespoon fresh thyme leaves

6 oz (180 g) mushrooms, sliced

1/4 cup (60 ml) dry white wine

8 oz (240 g) dried whole wheat farfalle pasta

1/4 cup (60 ml) heavy cream
Instructions
In a small mixing bowl, combine vegetable broth and all-purpose flour. Whisk until the flour dissolves. Set aside.
Melt the butter in a 6-quart (6 L) electric instant pot turned to browning function.
Add minced garlic and thyme. Cook, stirring, until aromatic, for less than 1 minute.
Stir in mushrooms. Continue cooking and stirring occasionally, for about 3 minutes.
Pour in the dry white wine and scrape up any browned bits from the bottom of the cooker.
Mix in the broth mixture, then add pasta and stir until coated.
Close the pot and lock the lid. Set the machine to cook at high pressure, and set the timer to cook for 8 minutes.
Using the Quick Release method, bring pressure to normal. Carefully unlock and open the lid.
Stir in heavy cream. Cover without locking the lid and set it aside for a couple of minutes.
Stir well before serving.