Instant pot coconut flan recipe. Quick, easy, and fluffy! This Coconut Flan recipe is a delicious and festive dessert recipe for your holiday meal.
What is a coconut flan?
Coconut flan is a dessert made with a crust made from shredded coconut, sugar, and eggs. It is traditionally served in the Philippines and other countries in Southeast Asia.
The instant pot coconut flan recipe is a dessert that can be prepared using an instant pot. The crust is made from shredded coconut, sugar, and eggs. The filling consists of sweetened condensed milk, cream cheese, vanilla extract, egg yolks, and coconut milk.
How to Cook a Delicious and Deliciously Decadent Coconut Flan with Your Instant Pot
This recipe is made using an Instant Pot. It's a great way to cook a delicious and decadent coconut flan in the comfort of your own home.
The best part about cooking with an Instant Pot is that it can be done in less than 30 minutes! The cooking time will vary depending on how thick you make your flan.
When making this dish, use coconut milk powder instead of water for the liquid.
Instant Pot Coconut Flan Recipe
You may also like:
Slow Cooker Greek-Style Green Beans
Instant Pot Farfalle Pasta with Mushrooms and Cream
Slow Cooker Green Bean Casserole Recipe
Classic Air Fryer Scallops Recipe
Instant Pot Lentil Sauce Recipe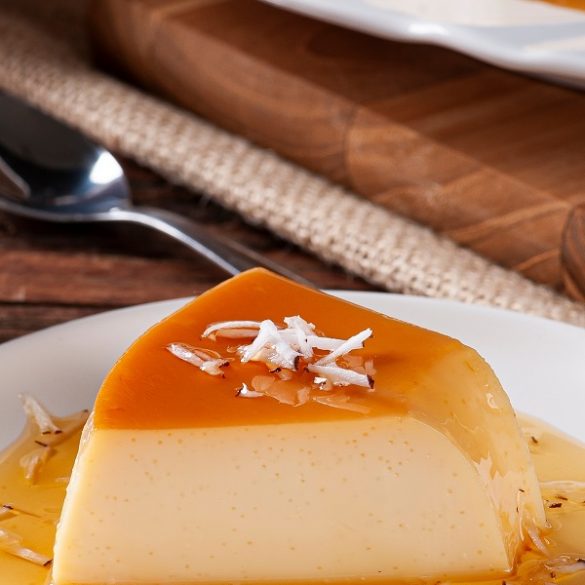 Ingredients
13½ oz (400 ml) coconut milk

12 oz (360 ml) evaporated milk

14 oz (420 ml) condensed milk

1 cup sugar

1 cup (250 ml) milk

3 eggs, beaten

pinch of salt

1/2 cup desiccated coconut

2 splashes of vanilla extract
Instructions
To make the caramel Syrup-Melt the sugar in a saucepan/aluminum cake tin over medium heat until it reaches a medium amber color.
Once it's done, remove the pot from the heat, then swirl the cake tin to fully cover the bottom.
In a blender, combine the remaining ingredients. Blend until well combined.
Pour coconut mixture through the mesh strainer into the prepared cake tin. Cover it with aluminum foil.
Pour 2 cups (500 ml) of water into the instant pot and set the trivet.
Using a foil sling, lower the tin into the trivet, by keeping the foil strips folded down.
Cover the pot and lock the lid. Set the machine to cook at high pressure. Set the timer to cook for 15 minutes.
Using the natural Release method, bring pressure to normal. Carefully unlock and open the lid.
Serve the coconut flan cold, drizzled with caramel syrup. Enjoy!