Air fryer easy latkes recipe. These crispy, perfectly shaped latkes are faster to make and healthier than frying. The air fryer gives them a beautiful golden crust without the worry of splattering oil.
The Health Benefits of Air Frying and How to Air Fry Foods
Air frying is a healthier way to cook your favorite fried foods. It uses less oil and produces less grease.
The health benefits of air frying are widely recognized as it is a healthier alternative to deep-frying, which requires more oil and causes more grease. Air frying also cooks food faster than traditional deep-frying and it is much easier to clean up afterward. Air frying is an easy way to enjoy all your favorite fried foods without guilt!
Air fryers have become increasingly popular in recent years because they provide an easy and healthy way for people to enjoy their favorite fried foods with minimal guilt! Air fryers use less oil than regular deep fryers, produce very little grease, cook food faster than traditional deep fryers, are easy to clean up after cooking and provide a healthier alternative for cooking.
The Cuisinart Air Fryer is a powerful, high-quality model with three basket sizes (10.8 quarts, 5.3 quarts, and 2.2-quarts) and an adjustable temp control from 240ºF to 400ºF that can cook a wide variety of foods from chicken wings to french fries! It has a sleek design and is inexpensive, making it a great investment for anyone who loves fried food without the guilt!
The Origin of Latkes
Latkes are a traditional Jewish food eaten during the Hanukkah season. They are made from grated potatoes and onion fried in oil or butter. Latkes can be served as a side dish, or for breakfast with eggs and a fruit compote.
Latkes are traditionally served during the Hanukkah season, but they can be enjoyed year-round. If you want to learn how to make latkes, this recipe is for you!
Air Fryer Latkes Recipe – How to Make the Perfect Latkes!
Latkes are usually made using shredded potatoes, onion, egg, and matzo meal or flour. They can also be made with other ingredients like applesauce, zucchini, carrots, and mushrooms.
The best latke recipes call for grated potatoes to be soaked in cold water to remove excess starch before they're fried in a hot pan with oil or butter.
The frying process removes the moisture from the potatoes and creates a crispy crust on the outside while leaving the inside moist and fluffy.
Here are some tips for making perfect latkes:· Use a heavy pan that heats evenly to avoid hot spots and ensure an even color.· Mince the onions very finely, they should be the size of rice grains.·
When adding potatoes, leave some space in between them so they don't fuse together during frying.· Shake or stir constantly while cooking to keep the latkes from sticking to the pan.· For a crisp coating, use non-stick cooking spray or a small amount of vegetable oil.· Turn the latkes over in the pan to ensure even cooking.
Air Fryer Easy Latkes Recipe
You may also like:
Slow Cooker Cauliflower with Creamy Cheese Sauce
Air Fryer Apple Fritters Recipe
Air Fryer Easy Salmon Fillets Recipe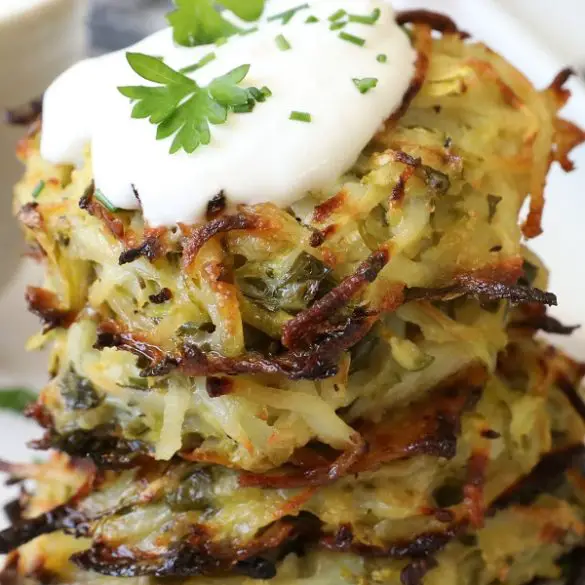 Ingredients
2 Russet potatoes, peeled and shredded

3 tablespoons all-purpose flour

1 cup thinly sliced green onions

1 large egg, whisked

1teaspoon salt

1 teaspoon freshly ground black pepper

1/2 teaspoon olive oil
Instructions
Place shredded potatoes in a small bowl of water. Soak them for 30 minutes to remove potato starch.
Drain the potatoes and remove the remaining excess water.
In a large mixing bowl, combine shredded potatoes, whisked egg, flour, green onions, salt, and black pepper. Stir well.
Grease the air fryer basket with olive oil.
Using a cookie scoop, scoop the latke mixture into greased air fryer basket. Spray the top of the latkes with more olive oil spray.
Fry at 350º F (175º C) for 10-12 minutes, or until the top is golden brown.
Serve fried latkes with a dollop of sour cream. Enjoy!