Air fryer sweet potato tots recipe. These sweet potato tots recipe is the perfect healthy and delicious way to eat your french fries. This recipe is adapted from https://sweetpeasandsaffron.com/crispy-air-fryer-sweet-potato-tots/
Crispy potato tots are made with only five ingredients and almost no oil. They're cooked in the crispiest of temperatures, so they have a crispy exterior and a fluffy interior.
You can make these ahead, refrigerate or freeze them, then fry them in the air fryer and serve up a healthy, kid-approved snack. I've had a lot of fun experimenting with our new air fryer and trying different food for the first time in a very long time. We love these crispy & easy-to-make sweet potato tots!
It cooks in small batches. For these services, you can only cook 10 or so at a time. Overcrowding is a mess and no one likes a mess.
I used regular mashed potatoes and added a few spices to them before mixing them with Panko breadcrumbs. Mix, form, and spray your tots. Then place them in the air fryer basket. That's it!
Air Fryer Sweet Potato Tots Recipe
You may also like:
Slow Cooker Cauliflower with Creamy Cheese Sauce
Air Fryer Apple Fritters Recipe
Instant Pot Sugar-Glazed Carrots Recipe
Slow Cooker Sweet Potato and Chicken Stew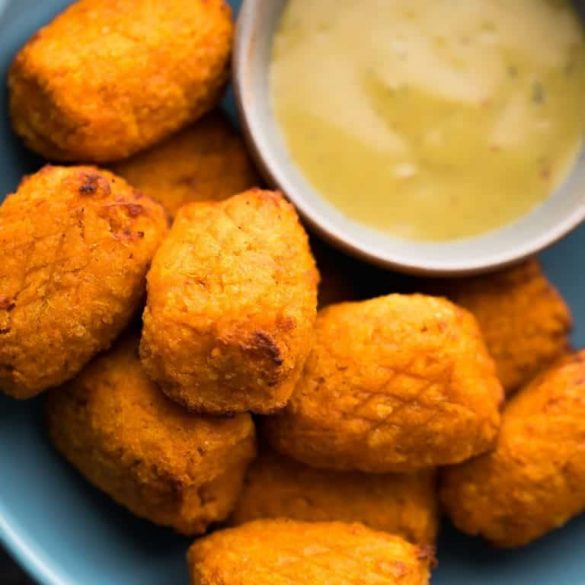 Ingredients
2 cups sweet potato puree

1/2 teaspoon salt

1/2 teaspoon ground cumin

1/2 teaspoon ground coriander

1/2 cup Panko breadcrumbs
Instructions
Preheat your air fryer to 390º F (195º C) for 5 minutes.
Meanwhile, in a large mixing bowl, combine all ingredients. Mix well.
Using a cookie scoop, form tots and transfer them to a plate.
Spray with cooking spray, then move them around to coat well.
Working in batches, fry at 390º F (195ºC) for 12 minutes, flipping them halfway through.
Repeat with the remaining tots.
Serve hot.