Air fryer chocolate chip muffins recipe. These chocolate chip muffins are a great breakfast recipe idea. The muffins are quick and easy to make, and the whole family will love them.
Knowing we were always on the go, I wanted to create a recipe that was easy and delicious. These only require 8 ingredients and they're perfect for any snack or breakfast! If you need some ideas to add a bit of variety and bake some goods too, be sure to try out this recipe, thanks for reading.
Imagine how good these are going to taste! They're about to come out of the air fryer and boy, are they good! My kids can't get enough of them, and I love the taste of hot coffee. Delish! It's a perfect breakfast, plus who doesn't like chocolate with their morning fix?
These muffins are so easy to make with your air fryer – within 30 minutes you can turn out a dozen delicious muffins!
The air fryer is one of the most versatile kitchen gadgets. I use it for muffins, and I've found that they come out light, fluffy and consistent just like the bakery.
Get an air fryer muffin tin so you can bake freezer-friendly, healthy muffins to share the goodness with your loved ones.
Air Fryer Chocolate Chip Muffins
You may also like:
Instant Pot Sweet Potato Gratin recipe
Crockpot Creole Garlic Shrimp Recipe
Air Fryer Indian Batata Vada Recipe
Air Fryer Sweet Potato Tots Recipe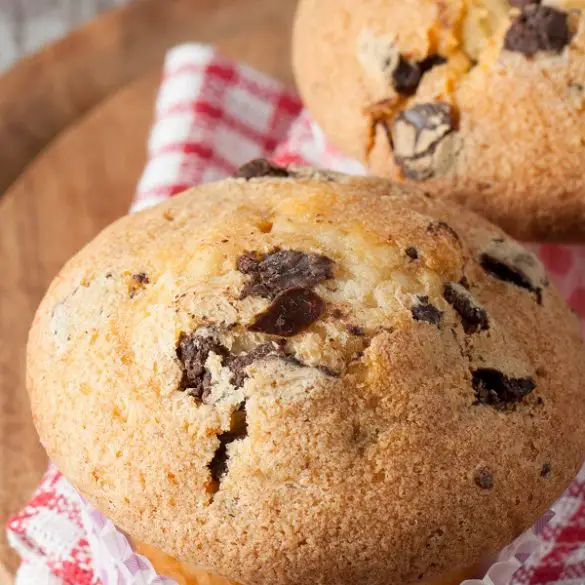 Ingredients
2/3 cup all-purpose flour

1 teaspoon baking powder

4 tablespoons sugar

1 large egg, beaten

2 teaspoons vanilla extract

1.3 cup (80 ml) milk

3 tablespoons unsalted butter, melted

1/2 cup chocolate chips
Instructions
In a large mixing bowl, combine all ingredients. Mix well.
Spray silicone muffin cups with nonstick cooking spray. Pour the batter evenly into prepared silicone cups.
Place cups in the air fryer basket.
Bake at 320º F (160º C) for 12-15 minutes.
Turn off the fryer. Remove baked muffins from the air fryer and transfer them to a cooling rack. Allow them to cool.