Crockpot Creole garlic shrimp recipe. This hearty and spicy shrimp dish is a meal in one. This easy slow cooker recipe is the perfect weeknight dinner that requires just 10 minutes of prep time.
The shrimp are cooked in butter, garlic, and Creole seasoning, which creates a wonderful sauce. I recommend serving this dish with some crusty bread. This recipe makes a great appetizer or the main course – serve it over hot boiled rice, angel hair pasta, or any other type of noodles you like.
If you don't want to make your own Creole seasoning, you can use a pre-made mix of recipe salt, paprika, and thyme or dried leaf basil. Drizzle a few tablespoons of lemon juice over the shrimp or serve them with lemon wedges.
5 Reasons Why Crockpots are Great for Fall Cooking
Fall is a season of delicious flavors and comfort foods. It is also a time to get cozy and make use of your crockpot. Here are 5 reasons why you should be using your crockpot more often this fall.
1) Fall is the perfect time to experiment with pumpkin recipes, and most crockpots have a specific setting for cooking pumpkin-based dishes.
2) Crockpots are great for making soups and stews, which are perfect for cold days when you want something warm in your stomach!
3) Crockpots can make vegetarian or vegan dishes that might otherwise be difficult or impossible to cook in other ways, such as vegan chili or mushroom risotto.
4) Slow cooking makes it easier to eat healthy food without having to worry about your food burning or getting overcooked on the stove.
5) Many crockpots have their own timer, which is great for cooking large meals that don't require constant attention.
Crockpot Creole Garlic Shrimp Recipe
You may also like:
Air Fryer Indian Batata Vada Recipe
Air Fryer Sweet Potato Tots Recipe
Instant Pot Chinese Rice Zongzi Recipe
Instant Pot Egg Fried Rice Recipe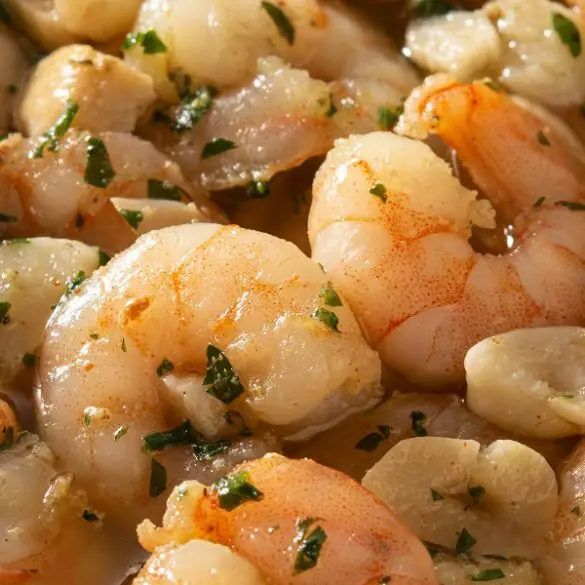 Ingredients
To Make a Creole Seasoning:

1 tablespoon paprika

1 tablespoon kosher salt

1 tablespoon garlic powder

2 teaspoons freshly ground black pepper

1 teaspoon onion powder

1 teaspoon cayenne pepper

1 teaspoon dried oregano

1 teaspoon dried thyme

To Make a Garlic Shrimp:

4 tablespoons unsalted butter

1/4 cup (60 ml) olive oil

5 cloves garlic, p[eeled and thinly sliced

1 teaspoon Creole seasoning

1/4 teaspoon black pepper

1/8 teaspoon cayenne pepper

1½ pounds (720 g) of extra-large shrimp, peeled and deveined

2 tablespoons chopped fresh parsley
Instructions
To make Creole seasoning:
In a medium mixing bowl, combine all seasoning ingredients. Mix until well blended.
Set aside 1 teaspoon of seasoning, cover, and store the rest of the seasoning in a cool, dark place.
To make the shrimp:
In a crockpot, combine the butter, olive oil, garlic, Creole seasoning, black pepper, and cayenne pepper. Stir well.
Cover the pot and cook in a high-heat setting for 25-30 minutes.
Open the lid. Stir in the shrimp. Recover the pot and cook for a further 20-30 minutes, stirring halfway through.
Turn off the cooker and open the lid. Remove cooked shrimp from the crockpot and transfer them to a serving plate.
Pour the cooking liquid over. Sprinkle with chopped parsley. Serve hot.