Slow cooker chicken taco soup recipe. This chicken taco soup recipe is a family favorite. The best part is that it's super easy to make!
It's true that everyone likes chicken noodle soup, but we believe a good taco soup is what soothes your soul. The spicy kick of chili powder and roasting tomatoes breathes new life into this otherwise bland soup. It's good any time of year, but especially during the wintertime.
The Benefits of Slow Cooking for Your Health and Taste Bud
Slow cooking is a great way to make your favorite meals without the fuss of cooking. It is also a healthier alternative to traditional cooking.
Slow cookers save time, money, and energy as they do not require constant supervision.
Slow cookers are also easy to use and clean. They are perfect for people who want healthy food but don't have the time or energy needed for traditional cooking methods.
Chicken Taco Soup
This is the type of soup that you can make in the morning and have to be ready for dinner. It's a hearty, filling soup that will warm you up from the inside out.
This recipe has been adjusted to be healthier than most slow cooker recipes by using shredded chicken instead of ground beef or pork. The chicken taco soup also uses less sodium and can be made without any added salt if you are following a strict low sodium diet.
Slow Cooker Chicken Taco Soup Recipe
You may also like:
Instant Pot Chicken Risotto Recipe
Instant Pot Chicken Risotto Recipe
Crockpot Creole Garlic Shrimp Recipe
Air Fryer Indian Batata Vada Recipe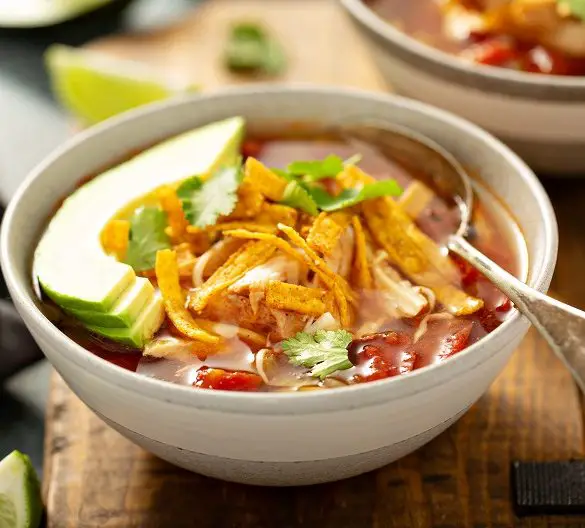 Ingredients
1 pound (480 g) boneless and skinless chicken breasts

2 red bell peppers, seeded and chopped

1 white onion, peeled and chopped

15 oz (450 ml) can of fire-roasted tomatoes

1/4 cup chopped fresh cilantro, plus more for garnish

3 cloves garlic, peeled and minced

1 tablespoon ground cumin

1 tablespoon chili powder

1 teaspoon kosher salt

2 cups (500 ml) reduced-sodium chicken broth

1 cup shredded Monterey Jack cheese

1 tablespoon extra-virgin olive oil

3 small corn tortillas, cut into strips

sliced avocado
Instructions
In a 6-quart (6 L) slow cooker, combine chicken, red bell peppers, tomatoes, cilantro, garlic, cumin, chili powder, salt, and chicken broth. Mix well.
Cover the pot and cook on a low-heat setting for 5-6 hours, or until chicken is tender.
Open the lid and, using two forks, shred the chicken. Top the soup with shredded cheese, cover, and allow it to melt, for about 5 minutes.
Meanwhile, prepare tortilla chips: Heat the olive oil in a large nonstick skillet. Add tortilla strips and cook until crispy, for about 3 minutes.
Remove tortillas from the skillet and transfer them to a paper-lined plate. Sprinkle with salt.
Serve this Mexican soup topped with tortilla strips, avocado, and chopped fresh cilantro.