Air fryer potato paratha recipe. Potato paratha is a common breakfast option for people from Bangladesh, India, and Pakistan. It's healthy food and has a lot of regional variations. Preparation is easy – all you need to do is boil the potatoes before combining them with flour.
Aloo Paratha makes a rich breakfast, so it can be eaten at other times of the day. One of the most important things to have when eating Indian flatbread is curry, but for dishes with potatoes, additional curry is not necessary. One of my favorite dishes to cook is the potato paratha. It's one of my kids' favorite dishes too since they love to eat it all by themselves.
Yes, using your hands to create round balls is quite easy for everyone. But if you don't mold the dough well first and make sure it stays in that shape, then it would get pinched or creased when frying and not be able to give you the same result.
What is the Best Way of Cooking Indian Food in an Air Fryer?
The air fryer is a relatively new cooking appliance that is becoming increasingly popular. It is a great way to reduce the amount of oil and calories consumed while cooking foods.
Here are some of the best recipes for Indian food that can be cooked in an air fryer.
1) Air Fryer Chicken Tikka Masala: This recipe will show you how to make chicken tikka masala in an air fryer. It's a favorite dish among Indians and it's very easy to do at home too!
2) Air Fryer Butter Naan: This recipe for butter naan will show you how to make them in your air fryer. These naans are perfect for dipping into your favorite Indian dishes and are a great way to enjoy naan in an effort to limit the number of calories you consume.
3) Air Fryer Mango Chicken Skewers: This recipe for mango chicken skewers is a fun and easy way to cook an Indian dish using your air fryer. You will love how quickly these can be made with minimal effort.
Air Fryer Potato Paratha Recipe
You may also like:
Slow Cooker Chicken Taco Soup Recipe
Instant Pot Chicken Risotto Recipe
Instant Pot Sweet Potato Gratin recipe
Air Fryer Chocolate Chip Muffins recipe
Crockpot Creole Garlic Shrimp Recipe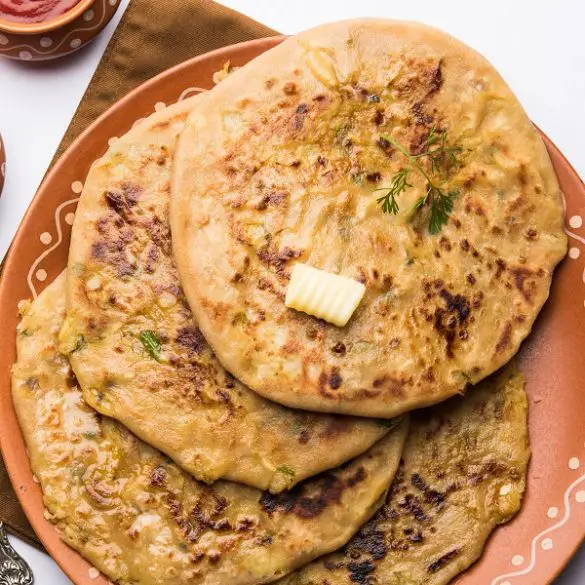 Ingredients
1 pound (480 g) yellow potatoes

1 cup all-purpose flour

1/2 cup (125 ml) oil

1 teaspoon salt

1/2 teaspoon freshly ground black pepper

1 teaspoon freshly squeezed lemon juice
Instructions
In a large pot filled with water, boil the potatoes. Using a colander, drain out the water.
Allow potatoes to cool. Peel boiled potatoes, then mash very gently.
Add the remaining ingredients to mashed potatoes.
Press dough to shape it firmly with your hands. Cover it and let the dough rest for 20-25 minutes.
Divide the dough into 8-1- pieces. Using a rolling pin, make flattened balls.
Place some oil in the center of the flattened balls and then fold it again. Thin out the dough until it is like a flat pizza-like circle.
Preheat your air fryer to 400º F (200º C) for 5 minutes.
Grease the air fryer basket with cooking oil. Place prepared potato paratha in the oiled basket.
Fry at 400º F (200º C) for 2 minutes, flipping them halfway through. Enjoy!