Air fryer crispy zucchini fries recipe. Learn how to cook crispy and delicious zucchini fries in an air fryer.
You may like as well: Air Fryer Chili Garlic Tofu Air Fryer Vegetarian Tso's Cauliflower Air Fryer Cheese-Stuffed Shells
Air Fryer Crispy Zucchini Fries Recipe
I recommend to use Homemade Aioli Sauce, to serve with fried zucchini.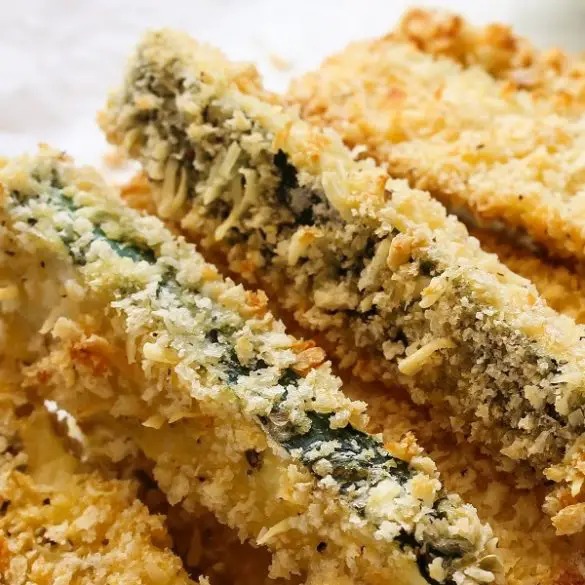 Ingredients
1/2 cup all-purpose flour

2 large eggs, beaten

1 cup seasoned breadcrumbs

salt and freshly ground black pepper, to taste

1 large zucchini, cut into sticks

olive oil
Instructions
In a shallow dish, combine all-purpose flour, salt, and black pepper. Mix well.
In a second shallow dish, combine breadcrumbs, salt, and black pepper. Stir well and set aside.
Place beaten eggs in a third shallow dish.
Coat zucchini sticks with flour mixture first, then dip them in the eggs, and, finally, toss with breadcrumb mixture.
Transfer seasoned zucchini to the flat surface and allow to sit for 10 minutes.
Preheat your air fryer to 400º F (200º C) for 5 minutes.
Spray zucchini sticks with olive oil. Transfer to the air fryer basket, placing them in two layers (setting the second layer in the opposite direction to the first)
Fry for 12 minutes, turning once and spraying with more olive oil.