Air fryer falafels recipe. Learn how to cook Mediterranean falafels in an air fryer. Healthy and delicious.
I recommend to use Homemade Vegan Tahini Sauce, to serve with.
Air Fryer Falafels Recipe
You may like as well:
Air Fryer Balsamic Brussels Sprouts
Air Fryer Crispy Zucchini Fries
Air Fryer Vegetarian Tso's Cauliflower
Air Fryer Vegetarian Sweet Potatoes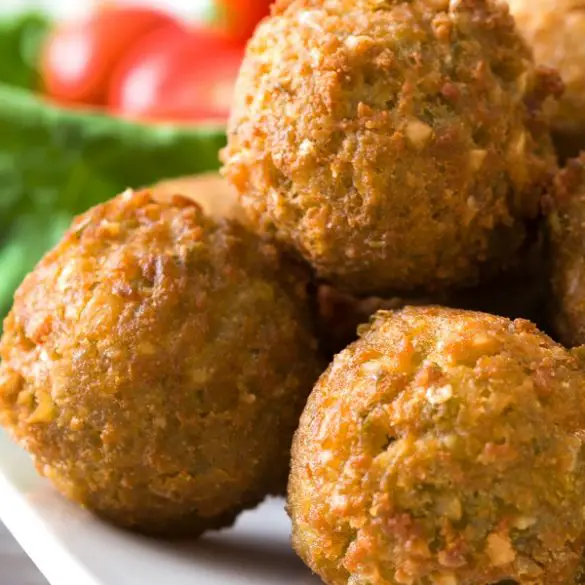 Ingredients
15 oz (450 ml) can chickpeas, drained

1 cup chopped white onion

6 cloves garlic, peeled

1 tablespoon freshly squeezed lemon juice

1 cup parsley leaves

1/2 cup cilantro leaves

1/4 cup dill leaves

1 teaspoon baking powder

2 teaspoons ground cumin

1 teaspoon salt

1/2 cup all-purpose flour
Instructions
In a food processor, combine all ingredients.
Process until a coarse crumb texture is formed. Cover and refrigerate for at least 1 hour.
Remove chilled mixture from the refrigerator. Form into balls.
Grease the air fryer basket with nonstick cooking spray. Preheat to 375º F (190º C) for 5 minutes.
Using tongs, place falafels in the greased basket. Air fry for 15 minutes, turning once during the cooking.
Remove fried falafels from the fryer and transfer to a serving plate. Allow cooling for a few minutes.
Serve with tahini sauce.