Slow cooker apple jelly recipe. Learn how to cook yummy apple jelly dessert in a slow cooker.
Slow Cooker Apple Jelly Recipe
You may also like:
Instant Pot Sugar-Free Apple Butter Recipe
Instant Pot Pineapple Jam Recipe
Apple Banana Cinnamon Smoothie Recipe
Baked Apple Strudel Dessert Recipe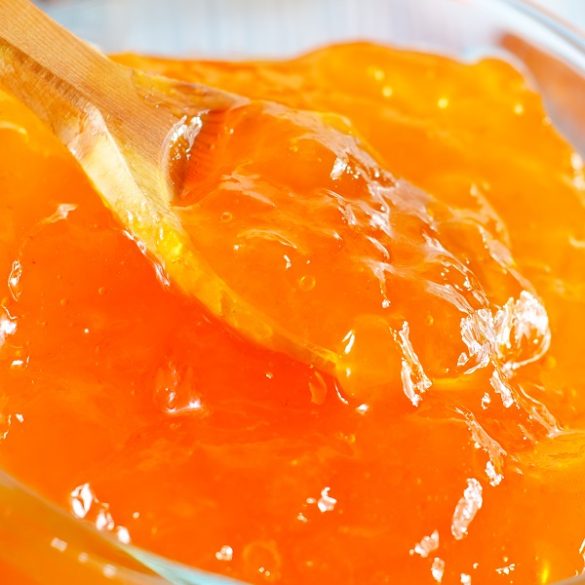 Ingredients
12 medium apples, washed, cored, and sliced

6 cups (1.5 L) water

1¾ oz (37 g) powdered fruit pectin

5 cups granulated sugar
Instructions
In a 6-quart (6 L0 slow cooker, combine sliced apples and water.
Cover the pot and cook on a low-heat setting for 8-9 hours, or until apples are mushy.
Turn off the cooker and open the lid.
Line a colander with cheesecloth, then tie in a knot. Hang the cheesecloth with cooked apples inside over a large bowl.
Allow to drain until no more juice comes out, then measure 6 cups (1.5 L) of the apple juice and return to the slow cooker.
Cover the pot, switch the heat to high and cook for 1 hour.
In a medium mixing bowl, combine the sugar and pectin. Mix well.
Open the lid and slowly add the mixture to the apple juice in the slow cooker, stirring until dissolved completely.
Recover the pot and cook in a high-heat setting for a further 30 minutes.
Turn off the cooker and open the lid. Carefully transfer the mixture to a large pan.
Bring to a boil over high heat.
Remove the pan from the heat. ladle the hot apple jelly into 8 oz (240 ml) jelly jars and secure lids and rings until finger tight.
Place the jars in a water bath for 10 minutes. Jelly will thicken as it cools. Enjoy!