Instant pot pineapple jam recipe. Learn how to prepare yummy sugar-free pineapple jam in an instant pot. So easy and simple method!
You can use it as a dessert for breakfast or add to cooked rice, your favorite salads.
You may also like Healthy Vegan Quinoa Salad or Instant Pot teriyaki Fried Rice
Instant Pot Pineapple Jam Recipe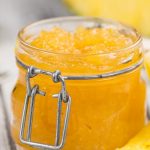 Ingredients
1 ripe pineapple, peeled and sliced into rings

1/2 inch (1.25 cm) ginger, grated

1/3 cup (80 ml) raw honey

freshly squeezed juice of 1 lime
Instructions
In an electric instant pot, combine sliced pineapple, grated ginger, honey, and lime juice. Stir well.
Close the pot and lock the lid. Set the machine to cook at high pressure. Set the timer to cook for 10 minutes.
Using the Quick Release method, bring pressure to normal. Carefully unlock and open the lid.
Using the immersion blender, purée the mixture.
Press the sauté button. Continue cooking until jam reaches desired consistency.