Instant pot sugar-free apple butter recipe. Learn how to cook yummy vegetarian-friendly and sugar-free apple butter in an electric instant pot.
You may also like Instant Pot Vegan Healthy Curried Quinoa or Instant Pot Vegan Spanish Rice
Instant Pot Sugar-Free Apple Butter Recipe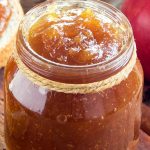 Ingredients
4 pounds (1920 g) fresh apples, washed and sliced

1/2 cup (125 ml) apple juice

1 tablespoon vanilla extract

1 tablespoon ground cinnamon

1/4 teaspoon allspice

1/8 teaspoon ground nutmeg

freshly squeezed juice of 1lemon
Instructions
In an 6-quart (6 L) electric instant pot, combine all ingredients. Mix well.
Close the pot and lock the lid. Set the machine to cook at high pressure. Set the timer to cook for 15 minutes.
Using the Quick Release method, bring pressure to normal. Carefully unlock and open the lid.
Purée cooked apples and spices with an immersion blender.
Press the Sauté button. Cover the cooker with a glass cover and cook, stirring occasionally, until butter is thickened.
After the butter reached the desired consistency, let it cool. Transfer cooled apple butter to  jars. Store in refrigerator for up to one week.