Instant pot healthy vegan curried quinoa recipe. Learn how to cook healthy quinoa with chickpeas and spices in an electric instant pot.
You may also like Slow Cooker Baked Potatoes or Pressure Cooker Manchow Noodles
Instant Pot Healthy Vegan Curried Quinoa Recipe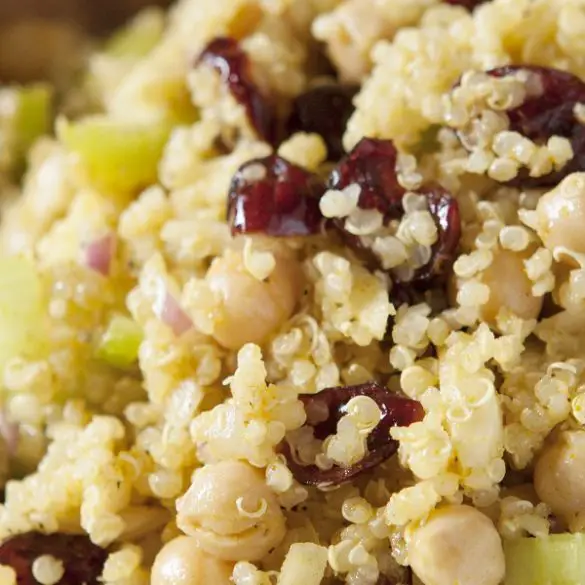 Ingredients
1 tablespoon vegetable broth

1 large red onion, peeled and diced

1/2 teaspoon ground turmeric

1/2 teaspoon ground cumin

1/2 teaspoon red chili flakes

1 teaspoon curry powder

pinch of salt

2 cups uncooked quinoa, washed and drained

2¼ cups (560 ml) vegetable broth

15 oz (450 ml) can chickpeas, rinsed and drained

1/2 cup dried cranberries

1/4 cup chopped green onions
Instructions
Heat 1 tablespoon vegetable broth in electric instant pot turned to the sauté mode.
Add diced onions and sauté, stirring occasionally, for a few minutes.
Stir in ground cumin, turmeric, curry powder, red chili flakes, and salt to taste. Mix well.
Add quinoa and chickpeas. Stir well, then pour in the broth.
Close the pot and lock the lid. Set the machine to cook at high pressure. Set the timer to cook for 1 minute.
Using the Natural Release method, bring pressure to normal. Carefully unlock and open the lid.
Stir in dried cranberries and chopped green onions. Serve hot.