Instant pot vegan Lauki Sabzi recipe. Vegetables with spices cooked in an electric instant pot. Healthy and Delicious Indian food. "Lauki" is a Hindi word, which means "vegetable" Lauki has too many names, such as Calabash gourd, Bottle gourd, White-flowered gourd, Long Melon, New Guinea bean, Tasmania bean, etc.
If you don't have it, substitute zucchini for Lauki.
You may also like Vegan Rajma Chawal or Vegan Kadai Paneer
Instant Pot Vegan Lauki Sabzi Recipe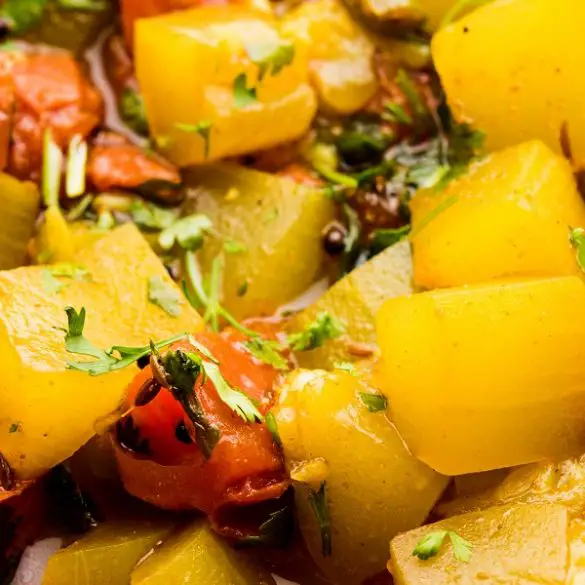 Ingredients
1 medium lauki (or large zucchini) peeled and cubed

1/2 tablespoon ghee butter

2 teaspoons cumin seeds

2 green chilies, seeded and chopped

1 medium yellow onion, peeled and chopped

1 large tomato, chopped

2 tablespoons water

salt and freshly ground black pepper, to taste

1/2 teaspoon turmeric powder

chopped fresh cilantro leaves
Instructions
Heat the ghee butter in an electric instant pot turned to the sauté mode.
Add cumin seeds and cook, stirring, for a few seconds. Stir in chopped onion and sauté, stirring occasionally, for 2 minutes.
Add chopped tomatoes, salt, turmeric, black pepper, and cubed lauki. Mix well.
Pour in the water and scrap any browned bits form the bottom of the cooker.
Close the pot and lock the lid. Set the machine to cook at high pressure. Set the timer to cook for 5 minutes.
Using the Quick Release method, bring pressure to normal. Carefully unlock and open the lid.
Stir well before serving. Garnish with chopped fresh cilantro. Serve hot.