Instant pot vegan Spanish rice recipe. Learn how to cook delicious Spanish rice in an electric instant pot. Easy and healthy.
You may also like Instant Pot Vegan Split Pea Soup or Instant Pot Healthy Tapioca Pudding
Instant Pot Vegan Spanish Rice Recipe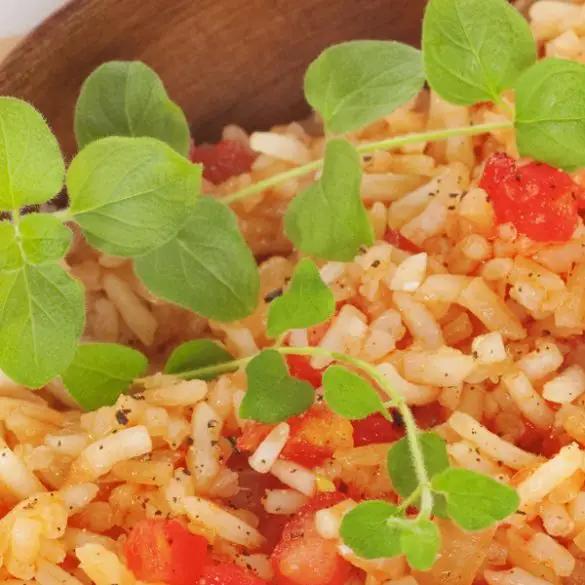 Ingredients
1 cup uncooked long gran rice

1cup (250 ml) vegetable stock

2 garlic cloves, peeled and minced

1 tablespoon olive oil

2 teaspoons cumin powder

1 teaspoon red chili powder

1 cup (250 ml) fresh salsa

pinch of salt

chopped fresh cilantro
Instructions
Heat the olive oil in an electric instant pot turned to the sauté mode.
Add rice and cook, stirring frequently, for about 3 minutes or until it turns light golden color.
Stir in minced garlic, salt to taste, cumin, red chili powder, and vegetable stock.
Mix well, making sure you all rice stuck from the bottom of the cooker. Add salsa (do not stir).
Close the pot and lock the lid. Set the machine to cook at high pressure. Set the timer to cook for 5 minutes.
Using the Quick Release method, bring pressure to normal. Carefully unlock and open the lid.
Stir well before serving. Add chopped cilantro and mix again. Serve hot.