Instant pot healthy tapioca pudding recipe. Sugar-free healthy vegan desert cooked in an electric instant pot. Easy and delicious.
You may also like Instant Pot Vegan Coconut Rice Pudding
Instant Pot Healthy Tapioca Pudding Recipe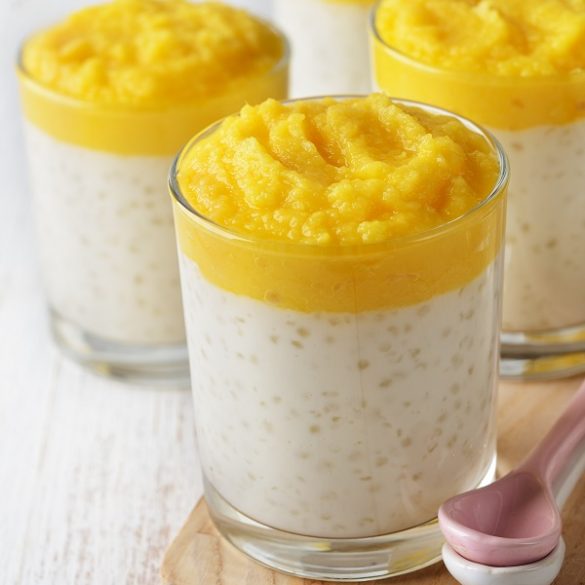 Ingredients
1/3 cup tapioca pearls, rinsed

14 oz (420 ml) coconut milk

2 ripe bananas, peeled and chunked and mashed

1 cup mango chunks

1/2 teaspoon vanilla extract

1/2 cup (125 ml) water
Instructions
In a medium mixing bowl, combine mashed bananas and mango (reserve some mango purée for garnish). Mash well and set aside.
In a steamer pot, combine coconut milk, vanilla extract, and banana-mango mixture. Stir well, the add tapioca pearls and water.
Pour the water into the inner pot, then place a trivet. Arrange the Steamer pot on the trivet.
Cover the pot and lock the lid. Set the machine to cook at high pressure. Set the timer to cook for 10 minutes.
Using the Quick Release method, bring pressure to normal. Carefully unlock and open the lid.
Remove steamer pot from the cooker. Using a fork, stir cooked pudding.
Cover it with aluminum foil and bring the pudding to room temperature. Cover and refrigerate.
Remove cooled pudding from the refrigerator. Pour reserved mango purée over the pudding. Serve cold.