Instant pot vegan white beans with rosemary and garlic. Learn how to cook delicious white bean soup in an electric instant pot. An excellent vegan recipe, must try.
You may also like Instant Pot Healthy Tapioca Pudding
Instant Pot Vegan White Beans with Rosemary and Garlic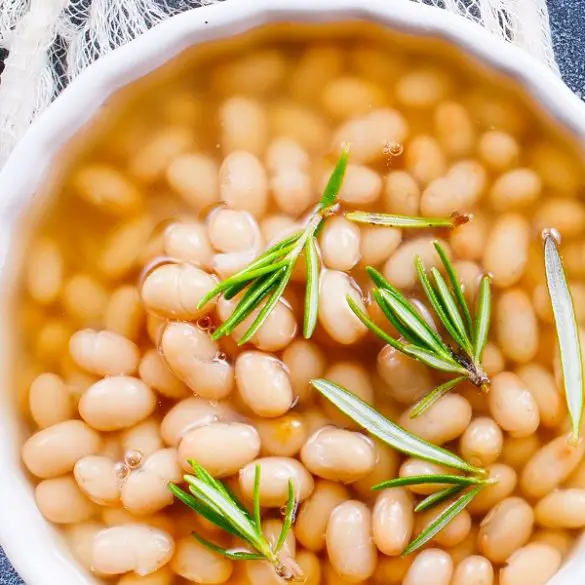 Ingredients
2 cups dry white beans, soaked in water overnight, then rinsed

8 cups (2L) water, divided

1 teaspoon bicarb soda

1 cube vegetable stock

5 cloves garlic, peeled and roughly diced

3 sprigs fresh rosemary

1/2 medium yellow onion, peeled and diced

2 tablespoons olive oil

1½ tablespoons freshly squeezed lemon juice
Instructions
Soak white beans in 4 cups water and bicarb soda for 12 hours.
Rinse and drain well.
In an instant pot, combine soaked beans, water, vegetable stock, garlic, and rosemary sprigs. Stir well.
Close the pot and lock the lid. Set the machine to cook at high pressure. Set the timer to cook for 10 minutes.
Using the Natural Release method, bring pressure to normal. Carefully unlock and open the lid.
Discard rosemary sprigs. Stir cooked beans well.
In a food processor, combine some cooked beans and 1 cup cooking liquid. Process well (it will thicken the bean soup).
Return bean purée to the cooker. Mix well. Stir in olive and lemon juice.
Serve hot.