Instant pot teriyaki fried rice recipe. Learn how to cook the best Chinese rice in an instant pot. Super delicious recipe.
You may also like Instant Pot Salmon Fillets with Broccoli or Instant Pot Keto Chicken Cacciatore
Instant Pot Teriyaki Fried Rice Recipe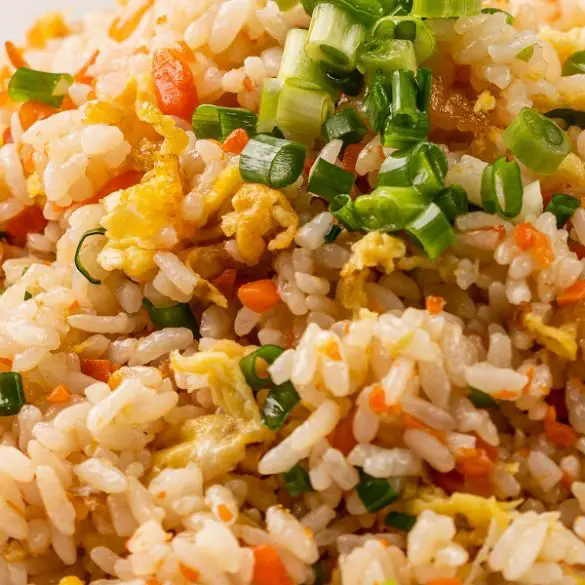 Ingredients
1 small white onion, peeled and chopped

1/2 cup chopped fresh celery

1/2 cup diced carrots

2 cups uncooked brown rice, rinsed and drained

2 eggs, beaten

2 cups (500 ml) water

2 tablespoons olive oil

1 tablespoon chopped garlic

1/2 tablespoon chopped ginger

1 teaspoon vinegar

1 teaspoon sesame oil

1 tablespoon soy sauce

3 tablespoons teriyaki sauce

chopped green onions, for garnish
Instructions
In a medium mixing bowl, combine water, vinegar, soy sauce, teriyaki sauce, and sesame oil. Mix well.
Heat the olive oil in an electric instant pot turned to the sauté mode. Add chopped ginger and garlic and cook, stirring, for a few seconds. Add chopped onions and sauté, stirring often, for 2-3 minutes.
Stir in chopped carrots and celery. Mix in the brown rice and beaten eggs.
Stir in the teriyaki mixture.
Close the pot and lock the lid. Set the machine to cook at high pressure. Set the timer to cook for 18 minutes.
Using the Quick Release method, bring pressure to normal. Carefully unlock and open the lid.
Stir the rice well before serving.
Sprinkle with chopped green onions. Serve hot.