Instant pot lentil soup recipe. Yummy vegan lentil soup cooked in an electric instant pot. Cook it in a slow cooker- Slow Cooker Lentil Soup
Instant Pot Lentil Soup Recipe
You may also like:
Air Fryer French Toast Sticks Recipe
Slow Cooker Baked Potatoes Recipe
Pressure Cooker Mushroom Barley Soup Recipe
Air Fryer Vegetarian Meatballs Recipe
Air Fryer Naan Flat Bread Recipe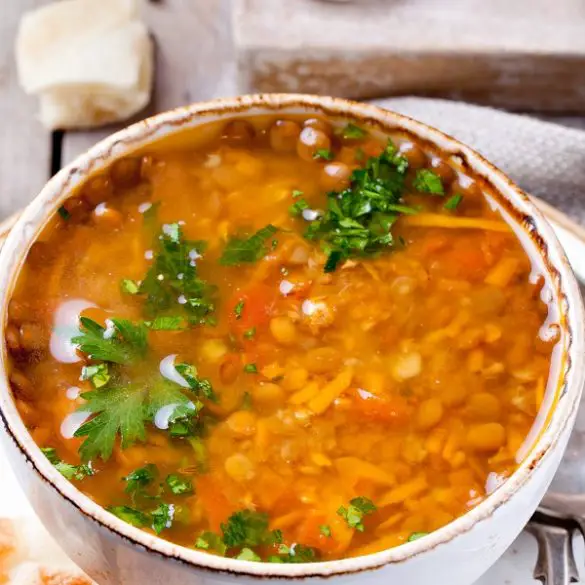 Ingredients
10 oz (300 g) brown lentils, rinsed

4 cups (1 L) low-sodium vegetable broth

2 stalks celery, diced

2 medium carrots, peeled and diced

1 medium yellow onion, peeled and diced

3 cloves garlic, peeled and minced

2 sprigs of fresh thyme

2 teaspoons dried oregano

1 tablespoon ground cumin

1 teaspoon smoked paprika

2 bay leaves

14½ oz (445 ml) can diced tomatoes

1/2 teaspoon salt

1/4teaspoon freshly ground black pepper
Instructions
In an electric instant pot, combine all ingredients.
Stir well.
Cose the pot and lock the lid. Set the machine to cook at high pressure. Set the timer to cook for 20 minutes.
Using the Natural Release method, bring pressure to normal.
Carefully unlock and open the lid. Stir the soup well before serving.
Serve hot with crusty bread on the side.