Air fryer French toast sticks recipe. Cook yummy French toast sticks in an air fryer.
You may also like:
Air Fryer Grilled Cheese Recipe
Air Fryer Vegetarian Meatballs Recipe
Air Fryer Naan Flat Bread Recipe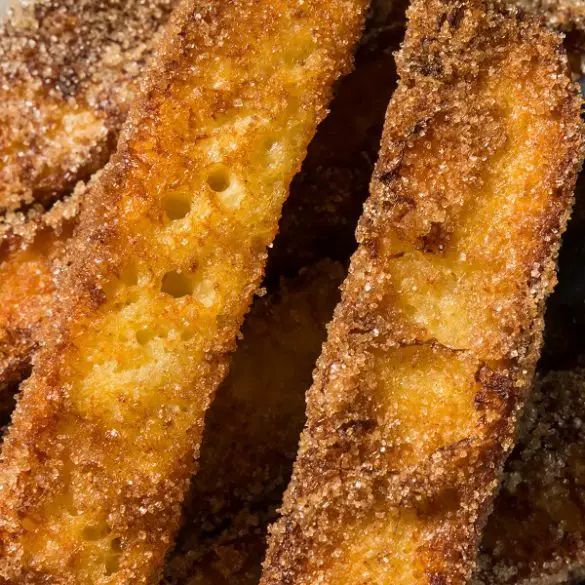 Ingredients
3 thick slices of white bread

1 large, beaten

2 tablespoons milk

1/4 teaspoon ground nutmeg

1/2 teaspoon ground cinnamon

1 tablespoon maple syrup

1/2 teaspoon vanilla extract

1 tablespoon unsalted butter, melted

For serving:

cinnamon sugar

For garnish:

fresh blueberries
Instructions
In a large mixing bowl, combine beaten egg, milk, vanilla extract, butter, maple syrup, ground nutmeg, and cinnamon. Mix well and transfer to a shallow bowl.
Place sliced bread on a wood cutting board and cut each slice into 4 sticks.
Dip each stick into the egg mixture, shaking off the excess, then place it on a plate.
Preheat your air fryer to 400º F (200º C) for 5 minutes.
Place French toast sticks in the air fryer basket.
Fry at 380º F (190º C) for 8 minutes, flipping once halfway through.
Remove fried french toast sticks from the fryer and transfer them to a serving plate.
Dust with cinnamon sugar and garnish with fresh blueberries.