Air fried pickles recipe. Cook pickles in an air fryer. Easy and yummy appetizer!
You may also like:
Air Fryer Vegetarian Meatballs Recipe
Air Fryer Breaded Asparagus Recipe
Air Fryer Mozzarella Sticks Recipe
Air Fryer Crispy Onion Rings Recipe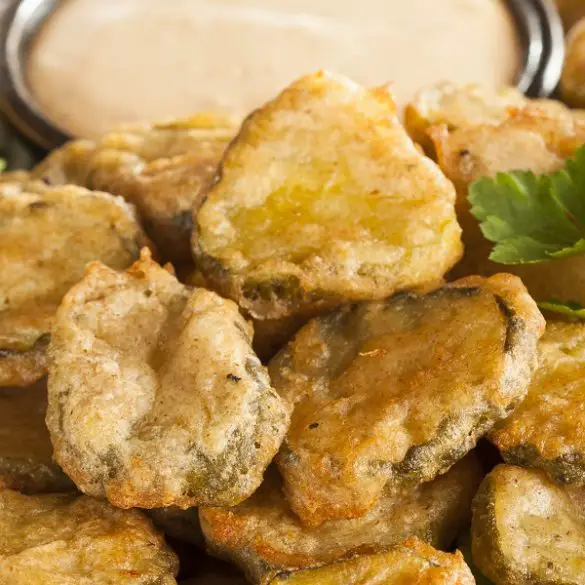 Ingredients
2 cups sliced dill pickles

1 cup all-purpose flour

1 tablespoon garlic powder

1 teaspoon Cajun spices

1/2 teaspoon cayenne pepper

olive oil
Instructions
Ina small mixing bowl, combine all-purpose flour and spices. Mix well.
Preheat your air fryer to 400º F (200ºC) for 5 minutes.
Coat the pickles with spiced flour mixture and place in a single layer in the air fryer basket.
Spray with olive oil.
Fry at 400º F (200º C) for 10 minutes, then flip them over and spray with more olive oil.
Continue cooking for a further 5 minutes.
Remove fried pickles from the fryer and transfer to a serving plate.
Serve hot.