Air fryer onion bhajis recipe. Learn how to cook yummy Indian onion appetizer in an air fryer.
Air Fryer Onion Bhajis Recipe
You may also like:
Air Fryer Breaded Asparagus Recipe
Air fryer Crispy Onion Rings Recipe
Air Fryer Blooming Onion Recipe
Instant Pot Moroccan Harira Soup Recipe
Slow Cooker Vegan Mung Bean Soup Recipe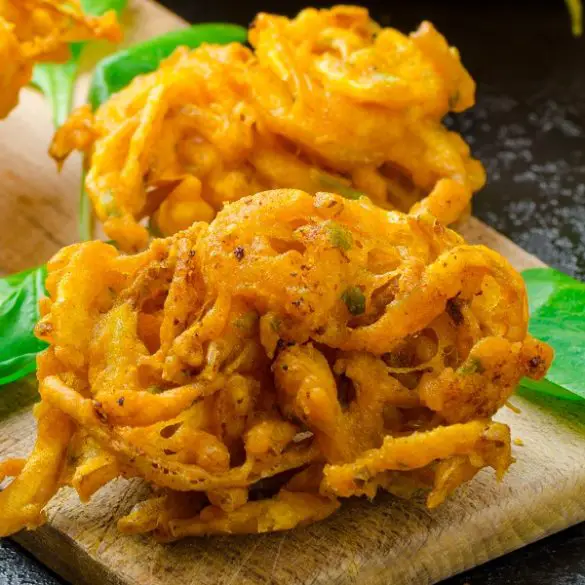 Ingredients
2 medium red onions, peeled and thinly sliced

1 cup chickpea flour

2 tablespoons rice flour

1 teaspoon ground cumin

1 teaspoon ground coriander

1/2 teaspoon ground turmeric

1/2 teaspoon chili powder

1/4 cup fresh coriander leaves

salt, to taste

3 teaspoons water

2½ teaspoons olive oil
Instructions
In a medium mixing bowl, combine all ingredients. Mix well.
Allow to sit for at least 20 minutes.
Using your hands, squeeze the onions to release the water.
Return squeezed onions to the dry mixture and stir well to form a thick batter.
Preheat your air fryer to 400º F (200º C) for 5 minutes.
Grease the air fryer basket with nonstick cooking spray.
Fry at 400º F (200º C) for 10-12 minutes, or until brown and crispy, flipping once halfway through.