Air fryer crispy onion rings recipe. Learn how to cook delicious and crispy onion rings in an air fryer.
Air Fryer Crispy Onion Rings Recipe
You may also like:
Air Fryer Zucchini Corn Fritters Recipe
Instant Pot Moroccan Harira Soup Recipe
Slow Cooker Vegan Mung Bean Soup Recipe
Air Fryer Easy Lemony Asparagus Recipe
Air Fryer Roasted Pumpkin Recipe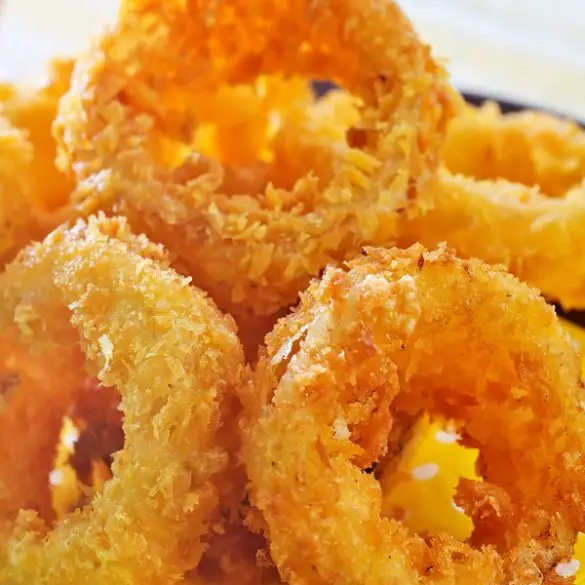 Ingredients
1 large sweet onion, peeled and sliced

2/3 cup all-purpose flour

1 teaspoon seasoned salt

1/8 teaspoon cayenne pepper

2 large eggs, beaten

2/3 cup (160 ml) buttermilk

2 tablespoons vegetable oil

2 tablespoons cornmeal
Instructions
In a small mixing bowl, combine all-purpose flour, salt, and cayenne pepper. Mix well.
In another bowl, combine beaten egg and buttermilk. Whisk well.
In a third bowl, combine breadcrumbs, oil, and cornmeal. Toss well and set aside.
Dip each onion ring into the egg mixture, then into the flour mixture. Dip it again into the egg mixture, and finally into the breadcrumb mixture.
Spray each onion ring with nonstick cooking spray.
Preheat your air fryer to 350º F (175º C) for 5 minutes.
Transfer breaded onion to the air fryer basket, making sure you place them in a single layer.
Fry at 350º F (175º C) for 12-15 minutes, or until crisp.
Serve hot.